Posted on
Mon, May 7, 2012 : 12:56 p.m.
Ann Arbor man wants to prevent John Dingell from seeing a 30th term in Congress
By Ryan J. Stanton
A 25-year-old Ann Arbor man is challenging U.S. Rep. John Dingell for his seat, claiming the long-time congressman isn't progressive enough.
Daniel Marcin, who is pursuing a doctorate in economics at the University of Michigan, filed nearly 1,800 petition signatures with the state on Monday to appear on the ballot.
Running as a Democrat, he'll face Dingell, D-Dearborn, in the Aug. 7 primary, competing in Southeast Michigan's newly drawn 12th District.
Courtesy photo
"I'm definitely to that guy's left," Marcin said of Dingell, attacking the 85-year-old congressman's record on environmental issues, same-sex marriage and tax policy.
"John Dingell acts like he's Mr. Senior Congressman," Marcin said. "If that's the case, he's going to have to own it. So anything that hasn't gotten done, I'm going to blame him for."
Dingell, who has been in Congress since 1955, currently represents Michigan's 15th District, but redistricting since the last election changed the state's districts.
Dearborn businesswoman Karen Jacobsen is running in the 12th District Republican congressional primary.
Dingell kicked off his campaign last week. At an event in Ann Arbor, he was joined by Mayor John Hieftje, Lisa Wozniak of the Michigan League of Conservation Voters, and Amanda Caldwell of the College Democrats at the University of Michigan.
All three praised Dingell's leadership. Wozniak gave him credit for his work on protecting the environment and said Dingell's name is "synonymous with conservation."
"Due to his tireless advocacy for his district, we now have the Detroit River International Wildlife Refuge, the River Raisin National Park, and a Huron River that is inspiring more attention and more investment each month," Wozniak said. "Michigan is a greener, healthier and more exciting home because of Congressman Dingell's conservation roots and vision."
Caldwell praised Dingell's work on student loan reform, saying it has made it possible for students to attend college knowing their student loan payments will be affordable.
Marcin describes himself as an economist and an environmentalist. He considers himself more liberal than Dingell, but he said he'd still like to privatize the postal service.
Marcin has been campaigning for weeks, including going door-to-door and using various social media platforms like Twitter and Facebook. On his website, www.No30thTerm.com, he spells out all the reasons why he thinks Dingell's long reign should end.
Marcin said this election isn't about experience or having 29 terms of incumbency, but rather about ideas. He claims Dingell has been an obstruction to addressing climate change, saying "there's been no action on climate change for decades."
Marcin also criticizes Dingell's vote for the Defense of Marriage Act. He wants to repeal the 1996 federal law that defines marriage as the legal union of one man and one woman.
"And if same-sex marriage is a priority, why hasn't he gotten it through yet?" Marcin said. "If he's Mr. Leader, he pretty much sucks at it."
Marcin has no background in politics but considers himself a strong supporter of labor. He has been a trustee of the Huron Valley Central Labor Council, AFL-CIO, since January 2011.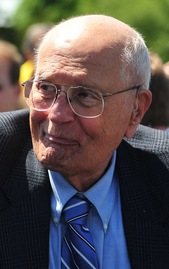 He attended the University of Maryland where he received bachelor's degrees in math and economics and participated in research on the health of Maryland's wetlands. He then moved to Ann Arbor to attend U-M where he received a master's degree in economics in 2010.
Taxation is another issue where Marcin says he differs from his opponent. He said he'd fight for taxes that penalize people and corporations based on how much they pollute.
"You should tax bad things before you tax good things," he said. "Income is a good thing, but we tax it. If people are going to pollute, you should be taxing them."
Marcin also said he's in favor of allowing people to choose where 20 percent of their federal income taxes go each year.
At his campaign kickoff last week, Dingell reiterated his support for legislation aimed at clean air and clean water and making food and prescription drugs safer.
He said consumers also deserve to be protected from waste, fraud and abuse, while seniors deserve retirement security and a strong Medicare program.
But most of all, Dingell said, people deserve good jobs with good benefits.
"This is my fight and has always been my fight," he said. "And you can count on me to continue this fight for the priorities of Michigan's people."
Dingell also heralded the Detroit turnaround, saying there is no question that Michigan is firmly established as the headquarters of cars of the future.
"The auto industry has added more than 200,000 jobs in the last two and half years and 2011 was the strongest year of industry growth since 1994," he said. "GM, Ford and Chrysler are starting to run three production shifts a day and are building new facilities to manufacture the small, fuel-efficient cars that consumers demand."
Ryan J. Stanton covers government and politics for AnnArbor.com. Reach him at ryanstanton@annarbor.com or 734-623-2529. You also can follow him on Twitter or subscribe to AnnArbor.com's email newsletters.