Posted on
Wed, Aug 1, 2012 : 5:58 a.m.
Daniel Marcin takes on U.S. Rep. John Dingell: 'You can talk to me after I get destroyed in the primary'
By Ryan J. Stanton
With less than a week to go until Tuesday's primary, congressional candidate Daniel Marcin acknowledges his bid to unseat U.S. Rep. John Dingell is a long shot.
In an interview with AnnArbor.com, the Ann Arbor Democrat conceded he'll be happy if he gets 15 percent of the vote against the 29-term congressman from Dearborn.
"But he's raised like 500 times more money than I have, so he has to get 500 times more votes than me for it to be a success," he said half-jokingly.
Marcin, a 25-year-old Maryland native pursuing a Ph.D in economics at the University of Michigan, said he's still serious about his campaign, though.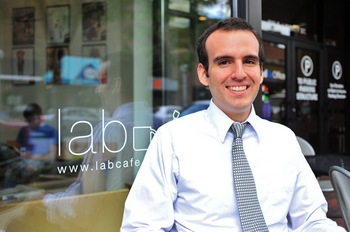 Ryan J. Stanton | AnnArbor.com
And even if he gets crushed by Dingell on Tuesday like he expects, Marcin hopes he at least was able to push a conversation on some important issues.
"I propose new environmental legislation that raises money and cuts the income tax and does a better job of protecting the environment than the Clean Air Act," he said. "I also propose more economic stimulus measures that would do more to stimulate the economy, and I do wonder why the Democrats in 2009 and 2010 did not push for a larger stimulus bill."
After months of pressing Dingell on same-sex marriage, Marcin considers it a small victory that Dingell recently reversed positions and came out in support of repealing the Defense of Marriage Act, which defines marriage as the legal union of one man and one woman.
"It was a little lukewarm, but it's something," Marcin said. "But he seems to be ignoring everything I say about the environment and also about stimulating the economy."
Dingell commented on his change of heart on same-sex marriage in an interview with AnnArbor.com earlier this week.
"A lot of things have happened," he said. "We had a chance to see how DOMA worked. It didn't work as well as it should have … so I thought it was time to repeal it.
"I've also found that Debbie and I have large numbers of gay friends and I really think that it is a way of respecting their desire for a loving and warm and trusting relationship, so I have introduced legislation to repeal DOMA. That seems to be the right thing to do."
Dingell, who has been in Congress since 1955 and has remained unbeatable since he first took office at the age of 29, said he's glad Marcin is running against him.
"I'll be very truthful with you, I'm always happy to have opponents," he said. "I need a campaign. It helps me get around and see my people."
Dingell, 86, said he doesn't think it's proper for him to comment on his opponent, so he's not saying much about Marcin, but he said he takes every campaign seriously.
"We're out getting around, seeing our people as much as we can. I'm home every weekend," he said. "I'm doing all of the things you do, getting around the district."
David and Goliath
As of the latest campaign finance reports, Dingell had raised more than $1 million and had more than $434,000 in cash on hand.
Marcin raised $15,475 — $12,620 of which came from his own pocket — and had only $626 in cash left as of July 18.
Asked if he thinks that was a good investment, Marcin hesitated before responding: "Well, we'll see if I push him on the issues enough to know if it was a good investment."
"I mean, it's definitely been a learning experience and it unbelievably has opened doors that I did not think would open," he said. "And I think some of those will become apparent after the election. You can talk to me after I get destroyed in the primary."
The winner of the Democratic primary will take on one of two Republicans who are duking it out on the GOP ticket. Trenton resident and small business owner Cynthia Kallgren is competing against Dearborn resident Karen Jacobsen, who also owns a business.
They're running in the new 12th congressional district, which stretches from Wayne County into Washtenaw, covering Downriver, Dearborn, Belleville, Ypsilanti and Ann Arbor.
Ryan J. Stanton | AnnArbor.com
"The Legislature has moved me around on a continuing basis. I've represented practically the whole southeast corner of the state of Michigan," Dingell said of his shifting district over the years.
"It's gone as far west as Adrian and a little further past that in Lenawee, and it's gone about halfway across Washtenaw," he said. "The Legislature this time found they couldn't put me any place I haven't been before, so they took Monroe away from me, which makes me sad because I'm working on a national park down there and a bunch of other things."
No matter how the district lines are drawn, past election results have shown Dingell remains popular among his constituency, and for that he's grateful.
"I didn't get elected to Congress 29 times because I was a crook or a bumbler or an incompetent," he said. "I think the people have re-elected me because I've shown a very high level of effectiveness and competence in terms of constituent service — or legislation which I've gotten through or which I've stopped or which I've amended."
Even with the national unemployment rate still hovering above 8 percent, Dingell said he's proud of his accomplishments in the last few years.
"I've gotten a lot of jobs for my people," he said. "I've saved the auto industry, I am continuing important local projects like the national park we're building in Monroe, or the refuge which we're building on the Detroit River for Fish and Wildlife, which is now close to 6,000 acres."
He also points to the $13.9 million federal grant he delivered to help the city of Ann Arbor pay for the reconstruction of the Stadium bridges, a project ongoing right now.
"I've been responsible for thousands of jobs and hundreds of millions of dollars flowing into this district, including $263 million that I got just on health for the University of Michigan alone," he said. "But we've also done that for the University of Michigan Dearborn, Eastern Michigan, Henry Ford, and Wayne and Washtenaw Community College."
Criticizing the congressman
Marcin, who considers himself politically to the left of Dingell, has criticized the congressman for not being progressive enough on economic and environmental issues.
"He's always received tons and tons of money from the biggest polluters in the state and he acts like he's Mr. Environment," he said. "DTE and Consumers Energy both gave $2.9 million to defeat the renewable energy ballot initiative and they also give money to John Dingell."
Marcin wants to see a federal tax system that penalizes people and corporations based on how much they pollute. He complains that Dingell holds up the Clean Air Act as a triumph when it doesn't do enough to protect the environment from polluters.
"The Clean Air Act actually puts no penalties on point source polluters," Marcin said. "The penalties are all on counties where air quality is substandard. The penalties should be on the people who are actually polluting, not the counties that have to breathe in the air."
Dingell said Marcin's comments just show he doesn't fully understand the law, which traces back to the 1960s and has been amended multiple times.
"If he's complaining about the two clean air acts that I worked out — and the last of which I'm the author on — he should take that complaint up with the conservation community, which unanimously endorsed that legislation," Dingell said.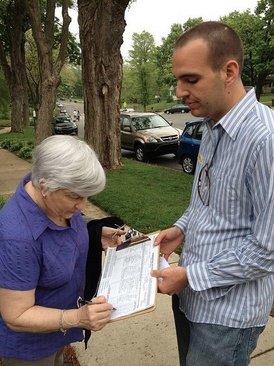 Courtesy photo
"Criminal penalties don't work," he added.
Marcin acknowledges he's running a humble, grass-roots campaign. He has a team of friends helping him out, but he doesn't have any major groups backing him.
Asked to describe the nature of his campaign, Marcin hesitated before responding: "I'm just trying to think what I can actually say here that doesn't look absolutely pathetic."
Marcin also hesitated when asked how his campaign is going and what kind of reaction he's getting from voters. "I'm not sure how to answer this," he eventually said. "I'm not going door to door. Yeah … I'm just not gonna … I don't really have anything to say."
Dingell is endorsed by a number of major labor organizations ranging from the Teamsters to the United Auto Workers, as well as groups like Clean Water Action. He also has picked up endorsements from both the Detroit Free Press and Detroit News.
If he gets a 30th term, he said he'll use it wisely.
"I intend to keep working on my projects here in the district," he said. "I intend to keep working on jobs. I intend to keep working to protect Social Security and Medicare. And I intend to keep going on seeing to it that the Affordable Care Act, of which I'm one of the principal sponsors, is properly administered and becomes the law of the land."
Dingell points to his recent achievements in Congress as the best indication of his potential for delivering on those promises if re-elected.
"We've produced thousands of jobs, saved the auto industry, saved the suppliers, and saw to it that I've gotten three major pieces of legislation through," he said, mentioning a food safety bill, a pharmaceutical safety bill and a pipeline safety bill.
Asked about the prospect of federal funding for a new train station in Ann Arbor, Dingell responded: "That appears to be under control, and the mayor seems to be content. I haven't talked to him about it for a while, but when last I did everything was in good order."
Marcin said he doesn't think there should be a train station on Fuller Road, where the mayor and other city officials want to see it built, since that's city parkland.
Instead of funding a new train station, Marcin thinks Dingell should be focused on trying to deliver more federal funds to rehire laid-off police officers, firefighters and teachers.
"That's the easy money. Where is that?" he said. "If we rehired back all the teachers, police and firefighters that have been laid off since the recession, the unemployment rate would be a full percentage point lower and economists are just in wide agreement that we are pursuing the wrong policies."
'The dirtiest election in history'
Dingell said the 2012 election is much bigger than his own race. The future of the United States is at stake, he said, along with everything he stands for as a Democrat. He said he's doing everything he can to make sure President Barack Obama is re-elected.
"Because at stake is every program that I believe in from Social Security and Medicare to the Affordable Care Act, and all of the conservation and consumer protections and financial regulation legislation we've adopted," he said. "The Republicans are trying to repeal all of that."
Marcin said it won't be the end of the world if Dingell stays in office. On a lot of issues, he agreed, the blame goes to the partisan gridlock in Congress.
"John Dingell is clearly not my least favorite congressman," Marcin said. "I will freely admit that on most issues he votes the right way. So the Republicans are definitely, I think, the source of the problem. But the Democrats aren't fighting back enough."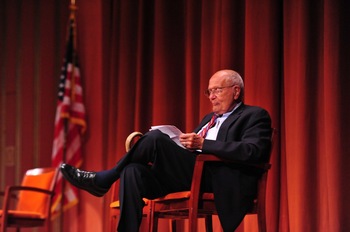 Ryan J. Stanton | AnnArbor.com
Marcin said Dingell should have fought harder for a larger stimulus package when economists were saying more than $1 trillion was needed for it to work.
Dingell said he agreed the American Recovery and Reinvestment Act of 2009, which pumped hundreds of billions of dollars into the economy, should have been twice as large.
"But you've got to remember that when you're dealing with people who do not want something and have the keys of power, you cannot get anything done without making concessions or getting enough votes to go around them," he said.
The recovery act could have been better, but it was pretty good, Dingell said, adding it saved thousands of jobs for police officers, firefighters and teachers.
"We got $18 billion for the state of Michigan, without which this state would have been in bankruptcy," he said. "And that flowed through to all kinds of communities. It was that money that built the bridge down the road. It has improved hundreds of miles of road in this district."
Dingell said he's also proud that he helped with the successful creation of a bankruptcy plan that saved General Motors and Chrysler.
One of the biggest criticisms Dingell hears often is that he's been in Congress too long and he's too old. On that point, Marcin at least partially defends Dingell.
"He's been in Congress too long, but I don't think he's too old," he said. "He's a very sharp guy. I've met him twice now and, yeah, he's a very impressive guy."
Dingell said voters can decide that for themselves.
"We are a part of a great system in which people who hold office are tested and I'm tested every two years," he said. "And very frankly, I happen to regard it as important because it sees that I am fit for the job in terms of service and intelligence, and physical and emotional and mental capabilities.
"And it gives people a chance to tell me what they think I ought to do."
As he looks ahead to what's in store between now and November, Dingell said he's expecting the ugliest election year in the history of the United States.
"It's going to be, I think, the dirtiest, nastiest, election in history," he said. "Second, it is going to be the most expensive election in history. It's probably going to cost more than $2 billion and I can't tell you how much more because of the Citizens United case, which is not only going to permit almost unlimited expenditures, but which will also allow the hiding of the names of people who contribute."
Ryan J. Stanton covers government and politics for AnnArbor.com. Reach him at ryanstanton@annarbor.com or 734-623-2529. You also can follow him on Twitter or subscribe to AnnArbor.com's email newsletters.