Posted on
Fri, Jun 10, 2011 : 9:15 a.m.
Michigan football player Darryl Stonum sentenced to two years probation in drunken driving case
By Lee Higgins
Michigan wide receiver Darryl Stonum was sentenced this morning in 15th District Court in Ann Arbor to two years probation for operating while visibly impaired second offense.
He also received a suspended sentence of 365 days in jail, meaning that if he violates that probation he could be put behind bars.
Stonum, 21, who was suspended from the team after being arrested during a traffic stop last month, pleaded guilty to the charge last week.
Under a plea agreement with prosecutors, a charge of driving with a suspended license is set to be dismissed provided Stonum successfully completes a strict sobriety court program.
Stonum declined to comment during sentencing. Judge Julie Creal told Stonum, "I think this is a great opportunity for you to grow up."
Stonum said, "Yes, ma'am."
Creal continued, "And recognize your responsibilities to society. We've had this conversation before and I'm sure we'll have it again."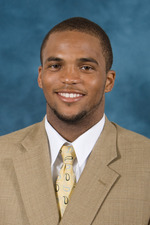 Stonum was arrested at 2:25 a.m. May 6 by University of Michigan police after a being pulled over on State Street. A breath test at the police station revealed he had a blood-alcohol level of .11. Another test showed he had a blood-alcohol level of .13.
In Michigan, it's illegal to drive with a blood-alcohol level of .08 or higher. Court records show Stonum also was ticketed Thursday morning by Ann Arbor police for driving with a suspended license. Stonum's attorney, Doug Lewis, said at today's sentencing that Stonum was simply moving the car so he didn't get a parking ticket.
Stonum, who is from Stafford, Texas is entering his senior year.
It's not the first time he's been in legal trouble. In September 2008, during his freshman year, police charged him with operating a vehicle while visibly impaired, and he was subsequently jailed for three nights in July 2010 for multiple probation violations.
As part of today's sentence, Stonum must submit to daily breathalyzer tests, random drug screens and is prohibited from driving for 45 days.
Lee Higgins is a reporter for AnnArbor.com. He can be reached by phone at (734) 623-2527 and email at leehiggins@annarbor.com.