Posted on
Sun, Feb 7, 2010 : 6:05 a.m.
Debate over runway expansion at Ann Arbor airport heats up
By Ryan J. Stanton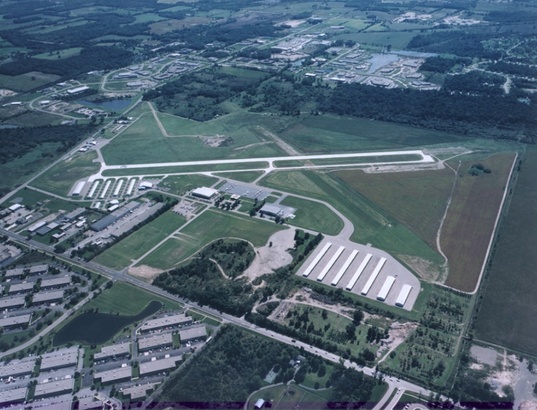 Residents living in a subdivision next to a small airport in Fort Lauderdale, Fla., watched in disbelief last April as a twin-engine plane crashed into a nearby house and burst into flames.
The pilot had radioed the air traffic control tower seconds earlier to say he was going to turn back due to mechanical difficulties. But his aircraft went down, and he was killed on impact.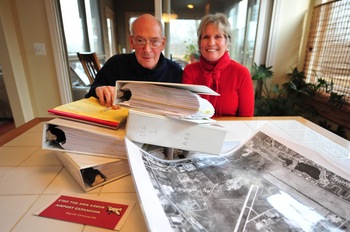 Ryan J. Stanton | AnnArbor.com
"He was a very experienced pilot -Â he lost an engine on takeoff, tried to turn back, and crashed into a home," said Pittsfield Township resident Sol Castell, a local pilot who lives in a subdivision adjacent to the Ann Arbor Municipal Airport and worries the same could happen here.
The longstanding debate over Ann Arbor's proposed 800-foot runway expansion was rekindled last week at an Ann Arbor City Council meeting. Neighbors - many in the large Stonebridge subdivision west of the airport - pleaded with the council not to approve a $37,250 item contained in the city's 2011-2016 capital improvements plan.
That item represents the city's share of a $1.5 million runway expansion project that would be almost entirely federally funded. But conceding to residents' pleas, council members voted 8-3 to remove the project from the plan and said they're awaiting the results of an environmental assessment study before they make any decisions.
City Council members will have the final say on whether the expansion happens. Although the land is in Pittsfield Township, it is owned and operated by the city.
City Council members say they've heard conflicting arguments for and against the expansion.
Expansion proponents like airport manager Matt Kulhanek and Mark Perry, chairman of the Airport Advisory Committee, are making a hard sell on the project in the name of safety.
But they're up against residents like Andy McGill and Kathe Wunderlich, a husband-wife duo arguing the expansion will do anything but improve safety. They say it will instead result in bigger and heavier planes flying closer to homes.
"They'll be passing over us at 300 feet and below," McGill said. "The margin of recovery if anything goes wrong is so small that eventually one of these planes is going to end up in someone's living room."
McGill and Wunderlich have formed an airport opposition group that has grown to about 400 members. They point out the expansion will not only tack 800 feet onto the runway, but also shift it 150 feet away from State Road, bringing its edge 950 feet closer to their subdivision.
Airport officials say those changes would address a number of safety issues. Foremost, the 150-foot shift eliminates a blind spot for the air traffic control tower. They also say it would provide for an improved approach to the runway and allow for the future widening of State Road.
Officials also say the extension reduces the likelihood of overruns, or cases where pilots go beyond the limits of the current 3,500-foot runway. According to airport officials, at least 11 such instances have occurred between 1998 and 2008, while only one other overrun occurred in the rest of the state.
McGill said he's closely studied the overrun reports and argues only three of them are legitimate. Considering they happened over the course of a decade, three out of 1 million operations isn't bad, he said.
"You have to ask yourself, if everything has been safe here, and it's that tiny little percentage of accidents, and they're all pilot error or mechanical error that a longer runway won't solve, why is the airport pushing so hard for this?" Wunderlich said.
McGill's group claims airport officials want to position the airport to accept aircraft weighing 40,000 pounds - twice the current limit.
"Some of the planes that will be able to come here that can't come now are Learjets, Rockwell Sabres and Mitsubishi Diamonds," McGill said. "That's just three kinds of twin jets, and there are several others."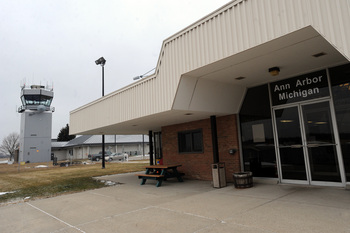 Melanie Maxwell | AnnArbor.com
Perry said five to eight types of larger planes will be able to use the airport if the runway expands. But he said that doesn't mean they're going to be lining up to land here.
"You just don't jump in any plane and say, 'Hey, Ann Arbor's got 800 more feet, let's go land there,'" he said.
Perry said the airport isn't seeking bigger planes. He insists the project is about safety, and that's why the expansion only takes the runway up to 4,300 feet, maintaining its B-II category.
"I want to maintain the small community character of that airport. I do not want bigger, louder planes landing in this area," he said. "Maybe that was the agenda two prior times when it was going to go out to 5,000 feet in 1978 and 1993, but this is more of a compromise."
Some residents argue continuing to invest in a financially struggling airport isn't wise. The airport required a $127,000 subsidy from the general fund last year and borrowed more than $1 million to build six new hangars.
Reports show the airport lost out on more than $21,500 in revenue from vacancies in airplane hangars in 2009. Last month, the airport reported another $3,491 loss from 13 vacancies to start the year.
"They've lost money seven out of the last 10 years in operations," McGill said. "The way that the airport has depleted its reserves and has gotten to the point where it's operating on such a shoe-string is a travesty."
Perry said the airport should have ended last year in the black, but a year-end IRS ruling required charging back the airport's employee retirement benefits account for benefits previously paid out.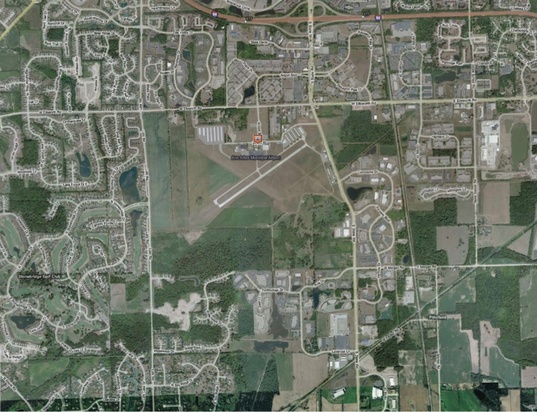 Perry acknowledged aviation is on a decline, which partly explains the hangar vacancies.
"I would say it's a sign of the times," he said. "And the demographics of pilots is rapidly changing. The greatest number of pilots that were trained were in World War II. And since the Vietnam War, we haven't had a war that required the mass training of pilots, so the number of pilots is aging off."
The traffic count at the airport reached its peak with 134,554 operations in 1999. That was down to 64,910 by 2008.
In its heyday, the airport saw nearly 31 flights come and go each hour during tower operations. By 2008, that was down to 15.
Even if the airport experiences a slight uptick from the proposed improvements, Perry argues the traffic counts still won't be what they once were.
Perry cites a study completed by the Michigan Department of Transportation in 1992 called "Value of Airports to Their Communities: Economic Benefits of Aviation." The report showed the airport had a $32.9 million annual impact on the economy, and each of the 56,900-plus annual visitors to Ann Arbor who arrived via the airport spent on average $57 per trip at off-airport spots.
Washtenaw County Commissioner Kristin Judge, a Pittsfield Township resident who lives near the airport and serves on the citizens advisory committee, said she's waiting for the results of the impact study.
"The initial safety concerns cited for the expansion have all been discredited," she said. "The longer runway will allow heavier airplanes no doubt. The longer runway will allow the current jets that use the airport to fill their tanks to capacity and fill their airplanes to capacity with payload."
Many township residents are unhappy the city has control over the decision.
"I really think there is some injustice here where local people are being taken advantage of by the interests of an expansion-hungry airport," said David Healy, who lives near the airport. "The greater injustice is the fact that any decision regarding this expansion will be made by a body with no electoral accountability to the local people."
Perry noted the airport has been in operation since 1928, and the subdivisions were built in the 1980s.
"The airport's not going anywhere, the subdivisions aren't going anywhere," he said. "We've just got to find a way to come together."
Ryan J. Stanton covers government for AnnArbor.com. Reach him at ryanstanton@annarbor.com or 734-623-2529.