Posted on
Sun, Mar 17, 2013 : 5:58 a.m.
Detroit emergency manager Kevyn Orr described as 'loyal Wolverine' and University of Michigan law school grad
By Kellie Woodhouse
Before Kevyn Orr was a successful corporate lawyer or Detroit's newly appointed emergency manager, he was a University of Michigan student.
In fact, Orr's seven years at U-M provide some of his strongest ties to the state whose largest city he's tasked with saving.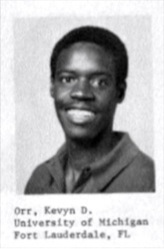 Photo courtesy of U-M's law school.
Orr enrolled in U-M in 1976 as an out-of-state undergraduate from Florida. By 1983, he had obtained his law and bachelor's degrees from the school.
In a video introducing himself, he said his mother received her master's degree from U-M and that, prior to attending, he never visited the campus because his family didn't have the money.
"I came to University of Michigan sight unseen," he said in the video, recalling when his plane first landed in 1976.
"My uncle picked me up from the airport and he took me around Detroit, I stayed with him that night and then he brought me to school. For the years I was here in school, from 1976 to 1983, we would regularly go into Detroit," he said.
Michigan Gov. Rick Synder, who appointed Orr as emergency manager Thursday, was acquainted with Orr while at U-M. Snyder, who graduated with a law degree and MBA in 1982, reportedly met Orr during a snowball fight on campus.
"They participated in a snowball fight, as the story goes, that they were both in as part of their quads on the U-M campus when they were in law school," Snyder's press secretary Sara Wurfel told MLive on Thursday.
Orr has visited campus many times since graduating with a law degree in 1983 because he represented his law firm, Jones Day, as a recruiter at the law school. He has hired several U-M law students as associates and clerks for his firm over the years, says Susan Guindi, assistant dean of the office of career planning at the law school.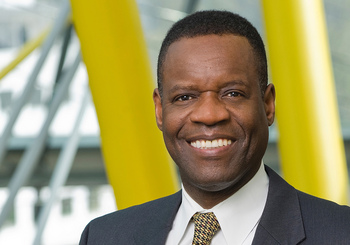 AP Photo/Courtesy Jones Day
He is scheduled to attend a weekend event for newly admitted law students at U-M's Law School later this month.
"He's a loyal wolverine. He really valued the education he got here and he really valued the students that we produced," Guindi said.
"From my perspective, he's a big draw for why students become interested in and accepted offers at his firm. He's just amazing to talk to, he's such an interesting man," she continued. "He's the one I call when I want to learn about a law firm's perspective about something. He is always willing to take my call."
A bankruptcy expert, Orr also represented automaker Chrysler LLC during its successful restructuring.
Now this U-M graduate has returned to the mitten state, tasked with turning around a city that has lost a quarter-million people during the last decade and remains saddled with a $327 million budget deficit and more than $14 billion in long-term debt.
Kellie Woodhouse covers higher education for AnnArbor.com. Reach her at kelliewoodhouse@annarbor.com or 734-623-4602 and follow her on twitter.