Posted on
Fri, Mar 16, 2012 : 2:59 p.m.
Dexter musician searches rubble of his home: 'This is the stuff you see on TV'
By Danielle Arndt
Angela Cesere | AnnArbor.com
Mechial White removed a long, rectangular silver box from the rubble at 7158 Wilson St. in Dexter where his home and music studio stood less than 24 hours ago.
He swung the box down onto what remained of his backyard deck, knelt and flipped open the box.
"Aww, no," he said, rocking back on his heels in defeat.
"Man!" he said. More damage.
The turntable inside the case White uses for disc jockeying, and virtually all of the contents of his two-story home, did not survive the tornado that swept through the village of Dexter at about 5:30 p.m. Thursday.
White's house was flattened in the storm, which brought inch-diameter hail and winds in excess of 130 mph.
A jazz musician, international DJ and music producer, White — also known as "The Groovematist" — had at least $100,000 in music equipment at his home. He had a full, two-story recording studio for local bands and artists to use. He also recorded his first album, "Grooveology," there and was working on his second album.
"These were my babies right here," White said on Friday afternoon, patting a large upright speaker that had been damaged in the storm.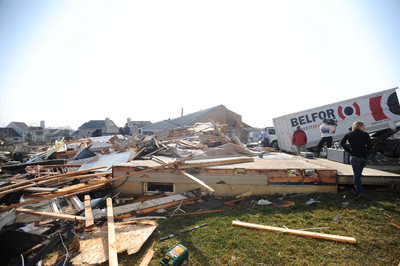 Angela Cesere | AnnArbor.com
White's garage was destroyed, and an empty equipment trailer that was parked inside flew about 30 feet and landed on the side of White's yard near the back of his house. His Jeep, which was parked in the garage next to the trailer, however, stayed in its place.
The most important thing — aside from White making it out alive — was he was able to rescue his computer hard drive with the music for his new album on it from the debris. He also saved a guitar and found his wallet.
White was hiding out in his basement Thursday night as his home collapsed around him.
"I went down there minutes before it got bad," he said. "I heard the loud cracks and thought it must be the windows breaking. Then I started to feel the wind and the rain."
White said that's when he knew he had to get out. He headed up the stairs and found the doorway blocked but was able to crawl out unharmed into the open air.
Despite traveling to foreign countries where natural disasters and extreme weather are more common, White said he has never experienced anything like Thursday in his life.
"This is the stuff you see on TV and in the movies," he said.
Because his equipment has been destroyed, White will begin contacting other DJs to cover his gigs for him until the insurance checks start coming and he can replace what was lost, he said.
Staff reporter Danielle Arndt covers K-12 education for AnnArbor.com. Follow her on Twitter @DanielleArndt or email her at daniellearndt@annarbor.com.