Posted on
Tue, Mar 20, 2012 : 9:21 a.m.
Dexter tornado is on the minds of readers this week; WCC hosts spring job fair
By AnnArbor.com Staff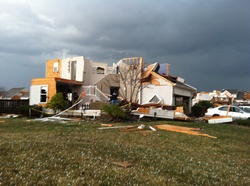 Paula Gardner | AnnArbor.com
The recent tornado that devastated the town of Dexter was on many readers' minds, but other topics of discussion have included notices of upcoming events, including a spring job fair at Washtenaw Community College. Here's a roundup of some of the stories posted on AnnArbor.com's Community Wall over the last few days:
By: Deb Bratkovich: Dexter Area Tornado Relief Fund
United Way of Washtenaw County established the Dexter Area Torando Relief Fund to assist those affected by Thursday's tornado. 100% of the funds collected will go directly to help with the long term recovery efforts.
By: julieswhimsies: Tornado near miss.
We had just gotten the horses in at the barn when the storm hit...
By: Janet Hawkins: WCC Job Fair Set for March 20
Approximately 50 employers and 20 non-profit representatives will participate WCC's 15th Annual Spring Job Fair and Nonprofit Showcase on Tuesday, March 20.
By: Laura's Child: Omega Psi Phi Fraternity is Looking for Talent
By: Tricia Pietrzyk: Vineyard Church of Ann Arbor: Kids Easter Egg Hunt and Continental Breakfast
By: Mary Alice Smith: 2012 "Saline Salutes" Awardees Announced
By: Melanie: Obama Campaign Ann Arbor High School Kick-Off
By: Clint Bohlen: An Infection of a WVU-kind
By: Dawn Farm Education Series: Health care for people with alcohol/other drug addiction - can health providers and people in recovery be allies?
By: Linda Tubbs: Local Volunteer Group Elects New Leadership
By: Thomas Rollins: The Bethesda Church is hosting the 2012 Women of Destiny Conference on Friday May 4th
By: Blair Driskell: Fiddlers ReStrung Announce Spring Hometown Concert wit Mike Block and Clay Ross April 21, 2012
By: Shih-Wen Wu: The First Chinese Cuisine Cooking Demo on March 26
By: Kelly Trosin: Dog Food Fundraiser to Benefit Pack of Rescued Dogs!
By: carrier: The Other Side of the HHS Mandate Story
Arbor.com's Community Wall is a spot for local people to post local stories, news and announcements. To post a story, sign in to AnnArbor.com, then go to www.annarbor.com/community and use the Got News? Tell Us function at the top to submit your news. If you have a photo to add, e-mail it to us at community@annarbor.com, and we'll insert it into your story.