Posted on
Mon, Feb 20, 2012 : 5:58 a.m.
Dexter-Scio fire committee plans to meet with firefighters to address concerns about plans, name
By Lisa Allmendinger
After hearing concerns from the Dexter Firefighters Association about several aspects of plan to combine the Dexter and Scio fire departments, a committee working on the consolidation wants to sit down and discuss the issues with firefighters to explain how the group reached its conclusions.
Jason Hilberer, president of the 40-member Dexter Firefighters Association, told supporters of the plan that there is uncertainty about what will happen during a transition period, and members of both departments are on edge about how the "personalities of the two departments will be meshed."
He said firefighters aren't trying to sabotage the process; in fact, many of the Dexter firefighters are in favor of the merger.
"The merger is the right thing to do. Never has there been a concern about the caliber of the firefighters; they are both outstanding departments," Hilberer said.
But he said as a matter of pride and tradition, firefighters want to retain the Dexter name.
The Dexter Area Fire Department serves Dexter Village, Dexter Township and Webster Township. Under the proposed consolidation with the Scio Township Fire Department, the new entity would be called Washtenaw Fire and Rescue.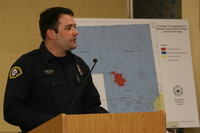 Lisa Allmendinger | AnnArbor.com
Pat Kelly
, supervisor of Dexter Township and a member of the committee, said having a new name would be an essential part of the transition.
"We need a new name, a fresh start, a new flag pole to rally around," she said at a meeting last week.
Dexter Area Fire Fighters, Local 4090 President Donald Dettling asked, "Are you saying that if the name is not something other than it is, that this is the tipping point and it will outweigh everything else?"
Local 4090 is the union representing Dexter firefighters, while the association headed by Hilberer includes both current and retired firefighters.
Kelly said she understands how heartfelt the firefighters' attitudes are about this issue. "I get it," she said, having been through something similar while working for the auto industry.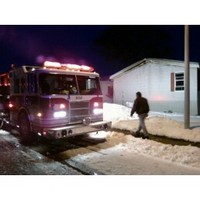 Erica Hobbs | AnnArbor.com
But she is adamant that in order for the combined department to have a fresh start, it must have a new name and other committee members agree.
Plus, members say, they want to leave the door open for other departments to join in the future.
But firefighters say there is a tradition and pride attached to their respective departments and the respective names. They calculate that changing a name on the trucks, uniforms and equipment will cost about $133,818, according to Hilberer's figures, not including the cost for signs on the stations, letterheads and other miscellaneous items.
"It's very important to protect something that has been around for so long when in today's day and age people are so quick to take ownership of something and dispose of it so quickly," Hilberer said. "Fire departments have played pivotal roles in the success of the communities which they protect."
"Having a new name really spells out a partnership between the two departments," said David Read, a Scio Township trustee and member of the committee. "There's shared risk, shared sacrifice and an opportunity for it to grow in the future. How knows, maybe Chelsea or Saline will come knocking at our door?
Hilberer's hoping to get firefighters from the two departments together to talk about the plan and take the information gathered at that meeting back to the committee looking into the merger.
The history
None of the committee members are displeased with the service they are currently receiving from the two separate departments, but their research indicates that overall, a larger, combined department would provide better service for residents and provide more opportunities for firefighters.
The proposed department would serve about 33,000 residents in Dexter Village, Dexter, Scio and Webster townships.
In the short term, both Loren Yates, Dexter's chief, and Carl Ferch, Scio's chief, will be retained and made deputy chiefs who would continue to oversee their individual departments. A new chief would then be hired to decide the operational structure of the combined department.
"We know that Scio and Dexter do things differently, that's why we want the recommendation of the (new) chief. We don't have the expertise to know what it takes to run a fire department," said John Kingsley, Webster Township supervisor and a member of the committee.
Scio Township formed its own fire department in 1988, which was a decision of the elected officials in office at that time. The Dexter Fire Department traces its history back 122 years to 1890.
"I don't see the animosity between the leadership of Scio and Dexter as there was back then," Kingsley said.
Currently, the Dexter Area Fire Department is a 1A department, which means it responds to both life-threatening and non-life threatening calls. Scio Township is a Category 2 department, which responds to emergencies such as structure fires, cardiac arrests and motor vehicle accidents with people pinned inside.
The proposed regional department would be a 1A department, "providing the highest level of response protocol."
How it would work
There would be quicker response times, committee members say, to certain areas of Webster Township, for instance, and all firefighters would have high levels of training.
The committee found that a combined department would allow a more efficient use of staff, equipment and apparatus. All current equipment would become the joint property of the combined department and there would be more opportunities for paid on-call firefighters and more flexibility of schedules.
All current employees would be transferred to the new department with their current date of seniority and standing. A new board, consisting of two people from each community and three from the largest community, would be chosen and a new chief would be hired.
The numbers
Dexter has 28 active firefighters; seven are full-time and 21 are paid-on-call firefighters. In Scio, there are four full-time firefighters and about 15 paid-on-call firefighters.
Scio Township has the largest population at 16,470, while Dexter Village has the smallest population of the four municipalities at 4,067 people, according to the 2010 census. Webster Township ranks second in population with 6,328 residents and Dexter Township has 6,042 and is third.
Currently, the estimated costs for the combined departments are $2.208 million. That cost would be shared accordingly:
Scio Township - 54.75 percent, or $1.209 million.
Webster Township - 17.37 percent, or $383,500.
Dexter Township - 15.42 percent, or about $340,000.
Dexter Village - 12.47 percent, or about $275,380.
It is expected that the call volume in Scio Township will increase by about 25 percent with a change to a 1A department.
Here is what each community current pays for fire services:
Scio Township: $956,250
Webster Township: $450,556
Dexter Township: $364,595
Dexter Village: $437,217
With the consolidation, Scio Township will see the largest increase in costs. The combined department is expected to use five fire stations:
Station 1 on Main Street in Dexter Village.
Station 2 on North Territorial in Dexter Township.
Station 3 on Webster Church Road in Webster Township.
Station 4 on North Zeeb Road in Scio Township.
Station 5, a planned new station at North Territorial and Dexter Townhall Road in Dexter Township.
Currently, Stations 1, 2 and 4 are manned round-the-clock, while Station 3 is being used for storage and is not staffed.
What's next
Some Webster Township officials have had questions about the benefits of this plan for their residents, and the committee issued a four-page letter to address their concerns.
It is expected that there will be a discussion on this topic Tuesday night at the monthly township board meeting.
Scio Township has already adopted a resolution in support of the concept and it's expected that the Dexter Village Council will see something similar on its agenda in the next month.
Lisa Allmendinger is a regional reporter for AnnArbor.com. She can be reached at lisaallmendinger@annarbor.com. For more Dexter area stories, visit our Dexter page.