Posted on
Sat, Mar 17, 2012 : 6:16 p.m.
1,000 meals in 24 hours: Dexter tornado relief gets a barbecue boost
By Danny Shaw
Danny Shaw | AnnArbor.com
Nearly 1,000 meals have been provided to the Dexter community within 24 hours, a culmination of efforts by local businesses and a nonprofit disaster relief group.
Tom Earl, one of the coordinators of Operation BBQ Relief, Michigan chapter, said he and dozens of volunteers have been cooking up hot dogs and hamburgers in front of LaFontaine Chevrolet for those affected by Thursday's tornado.
"Feel free to come on up and grab something to eat," said Earl, who also is a member of the Great Lakes BBQ Association. "We're on track to provide over 1,000 meals within 24 hours. We've got folks from all over the state to help out here."
The Michigan chapter of Operation BBQ Relief was established Friday morning, less than a day after the devastation caused by the EF3 tornado, said Earl, who is from Waterford. The nonprofit organization is based out of Missouri and has helped in other towns after tornado disasters.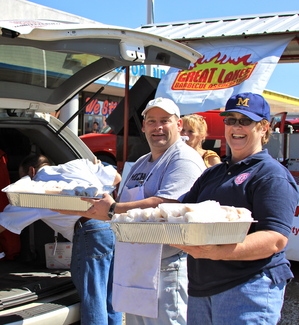 Danny Shaw | AnnArbor.com
They are operating in the LaFontaine Chevrolet parking lot until Sunday afternoon, then they will give any remaining food and supplies to the Salvation Army.
"We're going to do whatever it takes to help," said Shad Bennett, general manager at the dealership. "We established the Dexter Relief Fund website, where people can go on and donate, or they can come on in to the dealership. We want to help fix Dexter however we can."
As of 4:30 p.m. Saturday, LaFontaine Automotive Group had collected more than $4,200 in donations, according to the Dexter Relief Fund website.
Earl said he and his "barbeque enthusiast" colleagues jumped at the opportunity to help out after hearing about the damage from the tornado. They're barbecuing more than 400 pounds of pulled pork for Saturday evening.
He said the Salvation Army has been picking up food almost hourly for various shelters and staging areas around the village. Earl said they have been receiving more donations than he can wrap his head around.
"It's been amazing to see everyone pull together to help," he said. "Gordon Food Service, Sam's Club, Pepsi - they've all donated. Hundreds of people have donated. It's been overwhelmingly great."
Doug Busch, one of the owners of Busch's Fresh Food Market, said the store has donated hundreds of pounds of food and has collected more than $10,000 in donations for the relief. The grocery chain also has been storing perishable food items for the tornado victims.
"That's the way Dexter is," Busch said. "It's a tight-knit community. Everybody works together, everybody comes together."
Dexter residents Kristyn Greenfield and Michelle Stamboulellis visited the barbecue Saturday afternoon to grab some hot dogs for their families. They have been contributing to the landscaping cleanup of their hometown.
Greenfield also is offering to help restore family photos that may have been damaged in the tornado through her business, KG Creative Photography.
"This is my little town, it's so sad," Greenfield said. "Dexter is very tight and close. It's amazing to see people pull together like this."
Dave Loesel, a manager at Busch's Ann Arbor location, has been filling up and dropping off supplies as frequently as possible. Sometimes, he said, donations can be more than just money or supplies.
"I was walking through one of the neighborhoods yesterday that was hit," Loesel said, "and I met a man that lost everything. About the only thing I could offer him was a big, open-armed hug. That's what makes us human."
For ways to donate to the tornado relief effort, click here.
Wylie Elementary School also is opening up its gym and pool from 1 to 3 p.m. on Sunday after a great turnout on Saturday, according to a message from Dexter Community Schools. The facilities are available for Dexter kids who want to play and swim. The showers again will be open from 8 to 11 a.m. for families who need a place to wash up, and personal products like shampoo and soap are available.
The schools are planning to hold classes on Monday, although that will be confirmed later on Sunday. Counseling resources will be available for students.
Contact reporter Danny Shaw at 734-623-2544 or dannyshaw@annarbor.com.