Posted on
Sat, Mar 17, 2012 : 3:01 p.m.
Dexter cleanup effort transforming tornado-wrecked neighborhoods
By Lisa Carolin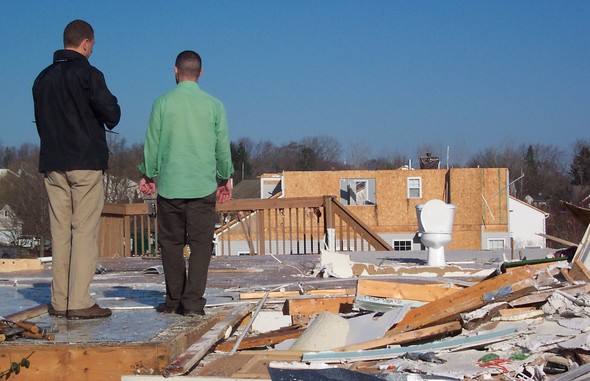 Lisa Carolin | For AnnArbor.com
Two days after the tornado hit the Dexter area, there still are several major areas facing major cleanup challenges from the devastation. Along Dexter-Pinckney Road across from the Hudson Mills Golf Course and in and around the Carriage Hills neighborhood, huge trees litter yards and roadways. Power lines are down, and power is not expected to be restored until early next week.
Lisa Carolin | For AnnArbor.com
"The tree-lined canopy is gone, and it's a very different-looking place," said
Doug Armstrong
, a Dexter firefighter and assistant fire chief for Scio Township.
"There aren't as many houses damaged in the Carriage Hills area compared to Huron Farms where there are upward of 80 houses damaged."
Armstrong, like so many other rescue workers and residents, marvels at the fact that there were no injuries during Thursday's tornado, which had winds up to 130 to 140 mph.
"People had a 15-minute warning and heeded it; It happened around 5 p.m. and many houses were not fully occupied, and we were just lucky," said Armstrong.
In the Huron Farms subdivision on Dexter-Ann Arbor Road, Nancy Malone from Canton organized a cleanup effort Saturday through her group Hands of Light in Action.
"I started Hands of Light in Action after 9/11, and we've been to many natural disasters including Haiti and Katrina," said Malone. "This is the first disaster I've been to where they were all lucky enough to have homeowner's insurance. The restoration crews are taking care of a lot of the cleanup."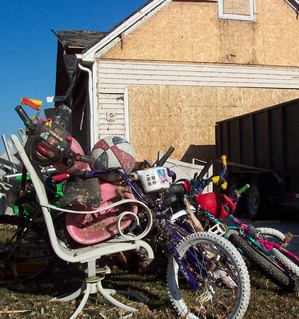 Lisa Carolin | For AnnArbor.com
More than 50 people joined Malone to help clean up Huron Farms' common areas. Volunteers like
Jerry Mastey
from Ann Arbor brought donations, including cases of bottled water.
Blue tarps cover various sections of many houses in Huron Farms, depending on the extent and location of the damage. Hackney Hardware employee Ben Howell says the tarps have been the biggest-selling item since the tornado hit.
"We're also getting a lot of requests for sharpening chainsaws," he said.
The sound of chainsaws is ubiquitous in Huron Farms. Dexter Area Fire Chief Loren Yates is amazed at how quickly progress is being made in the cleanup effort.
"It's remarkable how people are working together," said Yates. "The transformation from yesterday to today is incredible."
At the LaFontaine Chevrolet Parking lot on Dexter-Ann Arbor Road just east of Huron Farms, members of the Great Lakes BBQ Association are handing out breakfast, lunch and dinner.
"We provided 400 meals yesterday," said Jason Winne from Ferndale.
"People without power need food, and the Salvation Army is delivering our meals in boxes," said his wife Keri Winne. "We have a ton of food."
Armstrong says that they can't distribute the food and water donations fast enough.
"Everyone wants to help," he said. "It's a testament to living in a small community."
Lisa Carolin | For AnnArbor.com
If you were impacted by the storm and are in need of services, please contact the Red Cross at 734-971-5300.
Based on the needs of the community, the Red Cross is moving its services to the Creekside Intermediate School to offer, water, snacks, health services and service information. Creekside, 2615 Baker Road, will open at 7 a.m. on Sunday. It will not be used as a shelter. The shelter at Middle Creek Middle School, where these services were offered before will close at 6 p.m. Saturday.