Posted on
Sat, Mar 17, 2012 : 5:58 a.m.
Dexter fire chief Loren Yates on tornado: 'In the end, it worked out well'
By Kyle Feldscher
Dexter Are Fire Department Chief Loren Yates didn't sleep, didn't go home and didn't stop working for more than a day after Thursday's tornado hit the village.
And he could not be happier.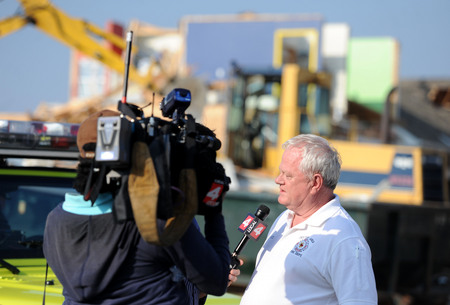 Angela Cesere | AnnArbor.com
Working the biggest natural disaster of his career, Yates had a tempered joy in his voice Friday afternoon when speaking about the response from his firefighters and the help they received from all around Washtenaw County.
While saddened for the residents whose homes were lost in the storm, Yates said the coordinated response by at least seven fire departments, response teams from Washtenaw County and police went perfectly.
"Everyone's doing what they have to do," he said. "A lot of people are going through a lot of pain after their loss, but for the most part everyone's happy."
Yates said firefighters originally responded to Dexter Township when the storm hit, even before getting a call reporting major damage in the village. He said there was hardly a thought given to the conditions outside the trucks — heavy wind, rain and hail, not to mention the EF-3 tornado — when going toward the hardest hit areas.
Yates said the department had the tough job of balancing the safety of firefighters responding to the homes and how badly residents in the affected homes needed help.
He said trees and power lines were coming down as they drove, but concerns about trapped people and possible fires came up trump.
First responders from every department went to each of the 100 homes that were damaged throughout the village, checking to see if there was anyone inside and doing their best to account for each resident, Yates said.
The mood among the crews brightened as they went to each home and realized that — unbelievably, miraculously, luckily — no one was hurt, he said.
"Every time we went to one, we knew we had a bunch more to go to and we were just grateful when we checked one dwelling (and no one was hurt)," Yates said.
"We have to account as best we can for everyone in those houses and as the night grew, it became incredible we had no injuries, let alone no fatalities."
It wasn't until 2 a.m. Friday that the last damaged house was checked and cleared. And then, the clean up began in earnest.
AnnArbor.com reached Yates as he was monitoring the situation in the badly damaged Huron Farms neighborhood. It was a sobering scene, with homeowners picking through what remained of their homes and salvaging as many of their belongings as they could.
Around him were workers from insurance companies assessing damage, construction crews boarding up houses that were savable, police and sheriff's deputies coordinating who was allowed in and out and firefighters from different departments still helping out.
Yates said it was chaos, but an organized chaos. The coordinated response and rescue effort went so well it was like a drill, he said.
"This is how you would draw up a mock disaster," he said. "No one gets hurt but you still have a job to do. We could not have designed (the response) better."
The sheer amount of personnel who were assisting Dexter firefighters meant some of the men could go home and get some sleep or, in the case of the on-call firefighters, attend to other obligations, Yates said. He gave those crews from other fire departments, Huron Valley Ambulance, the Washtenaw County Sheriff's Office and Michigan State Police and other county groups all the credit he could for their help.
However, there were quite a few firefighters who were working around the clock with their chief.
Yates said he planned to go home when it got dark Friday night to finally go to bed. It would be easier to sleep knowing that only houses and trees in Dexter were destroyed, he said.
"In the end, it all worked out well," he said.
Kyle Feldscher covers cops and courts for AnnArbor.com. He can be reached at kylefeldscher@annarbor.com or you can follow him on Twitter.