Posted on
Tue, Feb 14, 2012 : 5:55 a.m.
Dexter firefighters want village included in name of new combined department
By Lisa Allmendinger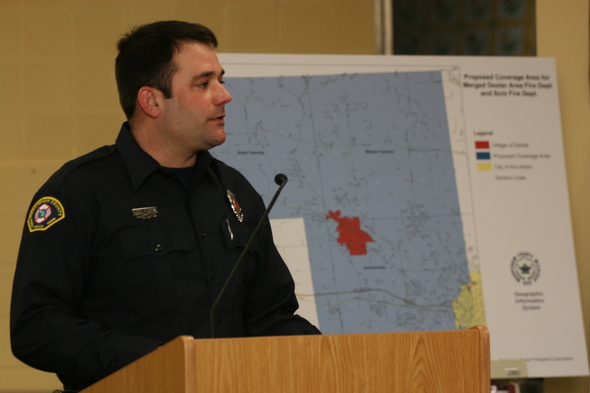 Lisa Allmendinger | AnnArbor.com
What's in a name?
When it comes to finding the right one for a proposed regional department that would combine the Dexter Area Fire Department and the Scio Fire Department, it's become a stumbling block.
Firefighters from the Dexter Area Fire Authority as well as several elected officials from Dexter, Dexter Township and Webster Township have expressed concerns about dropping Dexter from the proposed name for a fire department that has covered the Dexter area since 1890.
The name for the proposed combined department is Washtenaw Fire and Rescue.
Jason Hilberer, president of the 40-member Dexter Firefighters Association, told the Dexter Village Council Monday night that firefighters had concerns about not just the name for the department but also merging 45 employees from two departments with no concrete management plan.
Both departments have full-time and paid-on-call firefighters.
"We are not trying to undermine it, we're all for it. We don't think there should have been a split in the first place," Hilberer said of a combined department.
However, the firefighters are seriously opposed to a name change.
Village President Shawn Keough said that the committee hasn't defined an organizational structure because none of the committee members are firefighters and they wanted to leave the structure up to a new chief.
The plan is to have both current chiefs run their departments as deputy chiefs until a new chief is selected by a new fire administrative board. "We're trying not to get caught in a trap of micro-managing," Keough said, reiterating that there would be at least five full-time shifts, two in the village, one in Dexter Township and two shifts in Scio Township.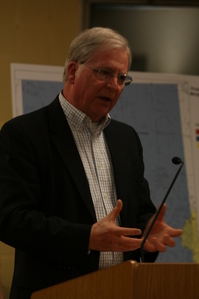 Lisa Allmendinger | AnnArbor.com
Hilberer said that he'd like to see two firefighters from both departments be involved in the process and said that the Dexter department had stayed out of the process until the last two or three months when there was a "pretty steady push forward."
He also presented the Village Council with a petition to preserve the name "Dexter Area Fire Department," saying that all but four firefighters in the department signed the petition and two of those firefighters aren't active and two are members of both the Dexter and Scio departments and felt it was a conflict of interest.
"We know the name is a sticky subject … it's a new beginning, but we're not forgetting the past," Keough said. "I don't know that a new name is such a bad thing, but that doesn't mean that we're forgetting who we are."
Hilberer said the firefighters "don't feel there's a need for a name change," and asked the Dexter Village Council for "your support and protection, just as we've supported and protected Dexter for the last 122 years." The Dexter Fire Department began in 1890 and since its inception has provided fire protection for Dexter and the surrounding townships of Dexter, Webster and Lima townships.
"The Dexter Area Fire Department provided fire and rescue protection to Scio Township from 1890 to 1987 under the name "Dexter Area Fire Department" until Scio Township formed its own department in 1988 and separated from the Dexter Fire Department," a petition to preserve the Dexter Area Fire Department states.
Elected officials from Dexter Village and the townships of Webster, Scio and Dexter have been meeting for two years discussing the regionalization of the two departments as a way to provide increased service to the area.
Last month, elected officials met to discuss a proposed interlocal agreement and some Webster Township officials had some concerns about the proposed name of the combined department as well as the benefits for its township residents.
Keough said that the committee had worked on a four-page letter that addressed many of the Webster Township elected officials' concerns, which would be released later this week.
Following an about 45-minute discussion of the issue, Scio Township Trustee David Read and member of the committee that put together the interlocal agreement, said he was "very disappointed" in what he was hearing from the firefighters and board members - especially since none of these concerns were mentioned at last month's combined meeting of elected officials from the member municipalities.
He said the combined department "minimizes risk and allows the departments to grow into the future. Now I hear we're focused on the past. They (Dexter) will lose their name, but so will Scio Township. This is a slap in the face of the Scio Fire Department, their sacrifice and their hard work of the last 25 years."
He said a combined department "will provide better service, more opportunity, and bigger better grants and the new name is an opportunity." Lisa Allmendinger is a regional reporter for AnnArbor.com. She can be reached at lisaallmendinger@annarbor.com. For more Dexter area stories, visit our Dexter page.