Posted on
Tue, Mar 13, 2012 : 4:30 p.m.
Dexter Pioneer Arts Fair 'a little spring gem' that benefits the Dexter Area Historical Society
By Lisa Allmendinger
Courtesy photo
What makes the annual
Dexter
Pioneer Arts Fair so special is that visitors have a chance to see the artists at work while browsing the artwork at the show.
"I find the intimate setting of this small local show provides a great venue for interaction among artists, visitors and the (Dexter Area) Historical Society members and supporters," said Susan Falcone, a longtime local artist exhibiting at the show.
"The small number of invited exhibitors allows for good viewing and demonstrating," she said, adding, "I am always happy to show how I go about painting my watercolor studies and have been doing so at this event since 1996."
Falcone said she'll be bringing some pieces from her new nature icon series that are unusual because of the combination of watercolor and gold leaf.
This year will mark the 39th annual show featuring more than 50 artisans, who will also demonstrate their traditional and folk crafts. The art fair takes place March 17 from 10 a.m. to 4 p.m. at Creekside Intermediate School.
Among the items for sale will be jewelry, stained glass, weaving, quilting, watercolors, wood carvings, toys and lace. There will be a craft table for children and a bake sale as well.
"The Dexter Pioneer Arts Fair is a little spring gem," said Rebecca Levenson, a fiber artist from Ann Arbor who exhibits there.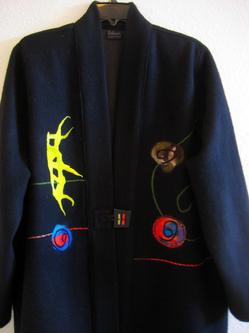 Courtesy photo
"It's a small old-fashioned venue with homemade baked goods and beautiful handmade arts," she said, adding "There are fun demonstrations of old-time crafts such as pottery, weaving, and woodcarving."
Levenson, who makes one-of-a kind jackets and scarves, said she'll have silk screened Gingko scarves and beautiful hand-dyed silk scarves along with some new styles of jackets.
She said artists donate 15 percent of their sales to the historical society.
The money supports the work of the society and the maintenance of the Dexter Area Historical Museum. Tickets will be available for door prize items, which include soaps from Cynthia High, a wooden bowl from Mac Buxton, a pottery item from Pam O'Hara, and a hearth broom from Ron Lindgren.
Admission is $3 for adults and 50 cents for students in grades K-12.
For more information about the Pioneer Arts Fair or the Dexter Area Historical Society and Museum visit the society's website.
Lisa Allmendinger is a regional reporter for AnnArbor.com. She can be reached at lisaallmendinger@annarbor.com. For more Dexter stories, visit our Dexter page.