Posted on
Thu, Mar 15, 2012 : 10:45 p.m.
After terror passes, Dexter residents shocked by 'surreal' scene left by Thursday's tornado
By Kyle Feldscher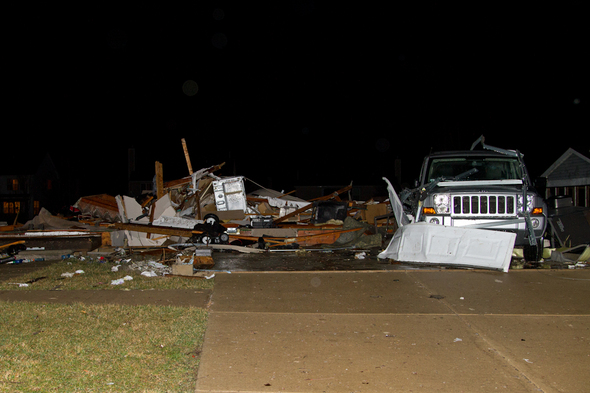 Steve Pepple | AnnArbor.com
Editor's note: The caption on one of the photos has been updated.
Saundra Psujek broke down crying once she got back to her home Thursday, shortly after it took a direct hit from the tornado that passed through Dexter.
Not because her house was ruined — miraculously, the 200-year-old building absorbed multiple large trees falling on it and stayed up — but because her mother was sitting on the couch, unharmed from the storm.
Tornadoes hit Washtenaw County
 

Psujek, her husband and her daughter were all out to dinner in Ann Arbor when the storm hit, leaving Psujek's mother at home alone with the family's dogs. It was rare for the family to even go out to dinner and even rarer for Psujek to leave her mother at home.

"I was apologizing for not being here for her," she said.

"It was horrifying to think of how scared she was here by herself. I don't leave her alone a whole lot," she added.

Psujek's home just off of Central Street, north of downtown, was one of many in the area that suffered damage from the rare storm that hit Thursday around 5:15 p.m. Unlike some of the newer homes that were hit by the storm, Psujek's stayed up.

After the tornado hit, she said a young man who was chasing the storm came into the house and checked to see if anyone was inside, eventually finding Psujuek's mother — who had taken refuge in the home's basement — alive and well. The man called Psujuek and her family and informed them their home had taken the hit and Psujek's mother was OK, she said. Her husband immediately left to check on the home.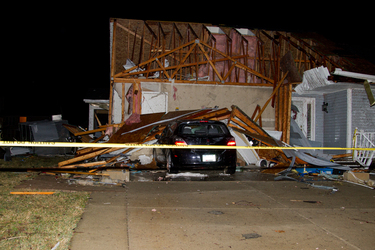 Steve Pepple | AnnArbor.com
After getting caught in the traffic that ensnarled downtown Dexter after the storm, Psujek and her daughter parked at a neighbor's house and sprinted into their house, still standing despite being hit by multiple trees. Upon seeing her mother resting on a couch, Psujek broke down and sobbed, she said.
Even though the home, just off of Central Street, took a dead-on hit from the tornado and had at least one large tree still resting on its roof, there was almost no interior damage to the home, Psujek said.
However, the tornado hit the house with such force that the house actually shifted while still staying upright, as evidenced by some doors that were no longer shutting correctly, she said.
"We're grateful this house is as old as it is," she said, adding that it's one of the village's original homes.
Nature's powerful, and oddly selective, force was on full display in the area just north of downtown Dexter. While some homes were missing sheds, large pieces of siding, gutters and had trees still resting on roofs, just one block away there were homes that went largely untouched.
Travis Otto was walking through town to check on old friends who lived in the area and said his home, about a block and a half away from the 3600 block of Central Street, went largely untouched. But, friends weren't so lucky.
"We have some gutters off our garage and our neighbors' garage is gone," he said.
It was the worst storm Otto could remember in Dexter, where he's lived for about 20 years.
He said he was at work near North Territorial Road and Mast Road when he looked up and saw the clouds beginning to spin. Once he turned on the radio, hail began to fall outside and he decided to wait out the storm before heading back into Dexter to make sure his home was still fine.
The lack of injuries in the Dexter area, despite the clear amount of property damage, was close to miraculous, he said.
"Everybody's just happy they're all right," he said.
Pam Smaby was home with her children and said she was terrified for her children and herself. After the tornado sirens went off twice, she took her kids into the basement and braced them for the coming tornado.
However, the storm didn't strike their home, even though the oft-cited sound of a freight train could be clearly heard. Smaby said her neighbor's backyard was flattened, but her home escaped damage.
"It was very loud," she said. "The people across the street from us, their backyard is destroyed. They said they heard the freight train noise, and it was just very, very loud."
Silas Johnson was another lucky homeowner who, despite only living about a block away from the area of Central Street affected by the storm, suffered no damage to his home.
Johnson stood near the train tracks that cross over Central Street, surveying the damage in the area, including a massive tree directly in front of the Dexter Cider Mill that somehow fell away from the building, and could hardly believe his eyes.
Trees were down across the area. Pieces of homes were being taken out of the street. The only lights in the area were from emergency vehicles. It was an unfamiliar sight in an area of Michigan where residents often shrug disbelievingly when tornado warnings are issued.
Johnson still couldn't believe what his eyes were seeing as the sun set Thursday.
"It's just kind of surreal. We just live literally a block away, and a block away everything looks good and over here it's torn up," he said. "It's just surreal."
The tornado appeared to have cut a path along Wilson Street in the Orchards River Hills subdivision, off of Dexter Ann Arbor Road. One home was leveled by the twister, leaving only a pile of debris and a Jeep SUV standing where the garage had.
At the house next door, the tornado tore off most of the roof and the attached garage, but lights could still be seen on inside the home.
Further east on Wilson, debris was scattered all around the home of Paul and Rita Jakubik. The couple were at home with their son Paul Jr. when the tornado hit.
"We have a little cubbyhole in the cellar and we were in it," Rita said.
They heard a lot of "smashing and banging."
"I thought we were going to lose the whole house," Paul Sr. said.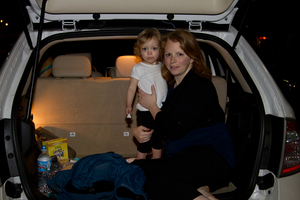 Steve Pepple | AnnArbor.com
In the Busch's supermarket parking lot near the entrance to the subdivision, 3 months pregnant Lindsay Collins was camped out in the back of her SUV with her 2-year-old daughter Claire and their dog.
Collins said she had just picked up her daughter from day care when the tornado sirens started wailing. As soon as she got home, she took Claire and the dog to the basement.
They were sitting on the floor several feet from a basement window when the air began blowing really hard, she said. "Something told me to get up and move."
She had just got Claire to a corner of the basement when the windows in the basement suddenly imploded, sending glass and debris everywhere.
Collins, whose husband was out of town, said firefighters told her that her house was too "creaky" to stay in, so she planned on spending the night at the home of her parents, who had come to help her after the storm swept through.
Marla Booth, vice president of marketing at Busch's, said the store would remain open all night to help residents.
Print Director Steve Pepple contributed to this report.
Kyle Feldscher covers cops and courts for AnnArbor.com. He can be reached at kylefeldscher@annarbor.com or you can follow him on Twitter.