Posted on
Fri, Mar 16, 2012 : 4:21 p.m.
Dexter 911 calls: 'I'm being chased by a tornado'
By Kellie Woodhouse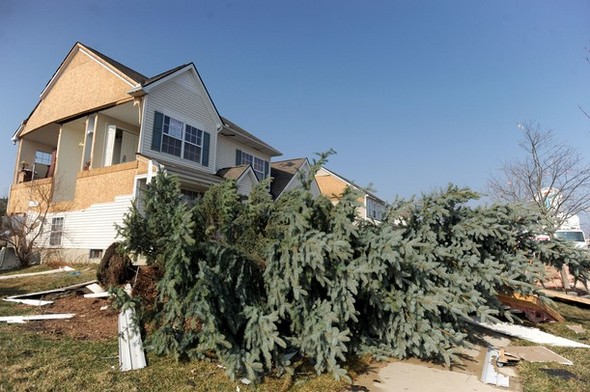 Angela J. Cesere | AnnArbor.com
Just-released 911 calls shed light on the flurry of panic experienced by Dexter residents as they witnessed a tornado rip through their neighborhoods and damage dozens of homes.
The tornado, which touched down in Dexter at 5:33 p.m. Thursday, is estimated to have lasted between 25 and 30 minutes. Although officials still are surveying the wreckage, an estimated 10 homes were completely destroyed, more than 100 homes have been damaged and at least 200 residents are now displaced.
AnnArbor.com obtained four of the dozens of 911 calls concerned residents placed on Thursday night:
"It's starting to throw debris up in the air... It's a cloud..."
Listen here: Dexter_Tornado_funnelcloud_911.wav
"Just wanted to let you know I'm being chased by a tornado... it's for real, I saw it."
Listen here: Dexter_tornado_chased_911.wav
"I'd like to report a tornado touchdown... It hit our house and it also looks like it touched down in the neighborhood... nearby."
"Listen here: Dexter_tornado_house_911.wav
"A tornado has touched down over in this area. There's several houses that have been tore apart."
Listen here: March 15 Tornado.wav
Kellie Woodhouse covers higher education for AnnArbor.com. Reach her at kelliewoodhouse@annarbor.com or 734-623-4602 and follow her on twitter.