Posted on
Tue, Mar 20, 2012 : 5:58 a.m.
Lost & found: School sets up place for items displaced by Dexter tornado
By Danielle Arndt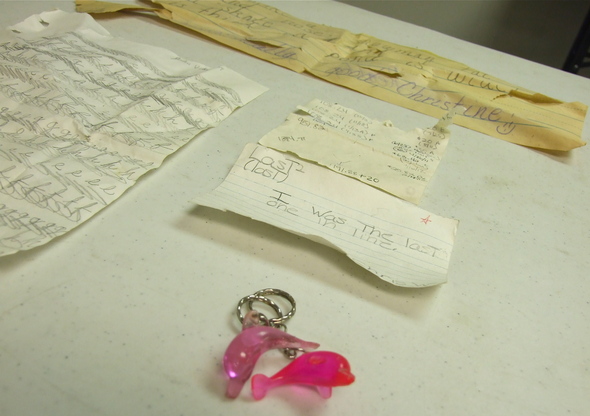 Danielle Arndt I AnnArbor.com
Staring up at the ceiling from his position on a long white table in a makeshift "Lost and Found" for
Dexter
tornado victims
is a photo of a young boy, standing on a fishing dock, clutching his prized catch and grinning from ear to ear.
Opposite the boy, an older woman carrying a small pitcher, a cup and saucer appears be caught off-guard and not terribly pleased to have her photo taken.
An array of photos — some tattered and discolored, perhaps from Thursday's storm, perhaps from an earlier time — are among the items left at Dexter's Creekside Intermediate School this week for community members to claim.
A group of Dexter volunteers have organized a lost-and-found space in conjunction with Dexter Community Schools for items that were blown about town in the wind and the rain that occurred before and after last week's tornado.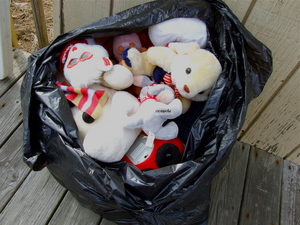 The Lost and Found will be open from 8:30 a.m. to 8 p.m. Monday through Friday. It is being hosted in a portable classroom on the north side of Creekside School,
2615 Baker Road
.
The operation likely will not have volunteers manning the rows of tables at all times, school officials said. A sign in the portable informs community members that Dexter Community Schools is not responsible for the items in the Lost and Found. It also states the building is being monitored by video surveillance.
The majority of the tables were empty Monday afternoon. About three T-shirts, a garbage bag filled with stuffed animals, an American flag and two pink dolphin key chains were nearly the sole contents of the room.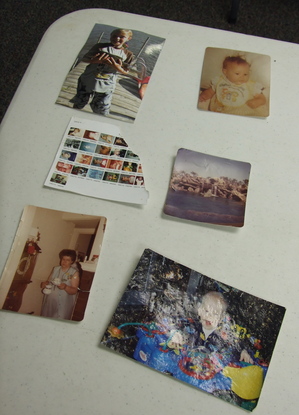 Danielle Arndt I AnnArbor.com
The remaining items were yellowed documents found along homes and churches. The papers included a cursive practice sheet, signed in the top right corner by John Widmayer; a student's notecard with the words "I was the last one in line;" and a story by a child named Christine about a fat snowman in a funny hat and her ice-skating adventures.
Another story turned up in the debris surrounding St. Andrew's United Church of Christ on Ann Arbor Street. The story details one woman's trip to Beaver Island in the summer of 1982 — "the best summer of her life." It shares how the chance meeting of an Indian girl named Wendy Kenwabikise was a turning point and a "new beginning" for the woman.
According to the Beaver Beacon, a monthly publication for the island, Kenwabikise was a longtime resident of Beaver Island who died of brain cancer in 2008.
Dexter Community Schools is looking for additional volunteers for the Lost and Found, according to a post Monday morning by Superintendent Mary Marshall. Contact the district at (734) 424-4100 for more information.
Staff reporter Danielle Arndt covers K-12 education for AnnArbor.com. Follow her on Twitter @DanielleArndt or email her at daniellearndt@annarbor.com.