Posted on
Fri, Mar 16, 2012 : 5:29 p.m.
Dexter tornado was a powerful EF-3, nearly a half-mile wide
By Cindy Heflin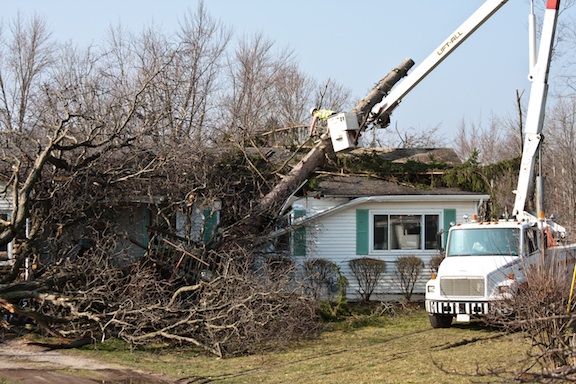 Steve Pepple | AnnArbor.com
The tornado that ripped through Dexter Thursday was a massive storm nearly a half-mile wide in some places, packing winds of 130 to 140 mph, the National Weather Service said Friday afternoon. It left a path of destruction 7.2 miles long.
The powerful tornado was rated an EF-3 on the weather service's Enhanced Fujita scale, which ranks storms from 0 to 5. It had a maximum width of 800 yards.
That makes the tornado very unusual, said AccuWeather meteorologist Brian Edwards, especially for March.
"The majority of them are low-end ones," he said. "You start getting into significant damage at 3, 4 and 5." Storms of that intensity are much more rare, he said.
The tornado was also unusual in that it was wreaking its havoc on the ground for about 30 minutes.
"That's a very long time to be on the ground. A lot of tornado touchdowns are very quick," Edwards said.
The typical tornado is about 50 yards wide and has a path of about 1 or 2 miles, according to information from the National Weather Service.
The storm damaged more than 100 homes, including 10 that were destroyed; uprooted trees and felled limbs; and knocked out power to much of the Dexter area.
The Dexter storm was especially rare in that it came in March, a time when tornadoes do not typically occur in Michigan. Typically the air is not warm enough in March to hold enough moisture required to create severe thunderstorms and tornadoes.
Southeast Michigan has had only eight tornadoes in March in the last 61 years, said National Weather Service meteorologist Cory Behnke. This week there have been four, including three Thursday.
The other two tornadoes that struck Michigan on Thursday were smaller than the one that hit Dexter and not as strong. A tornado that hit Lapeer County was rated an EF-2, the weather service said. It had maximum wind speeds of 125 miles mph and had a path 4.5 miles long. It was 400 yards wide at its maximum width.
The tornado that struck Monroe County was an EF-0. It had maximum wind speeds of 85 mph. It had a maximum width of 50 yards and path of destruction a half mile long.