Posted on
Sun, Mar 18, 2012 : 6:52 p.m.
Dexter Township Board approves $200,000 for tornado clean-up effort
By Lisa Allmendinger
While just up North Territorial Road in Dexter Township, golfers were spending Sunday enjoying a round of golf, on Dexter-Pinckney Road and in the Carriage Hills neighborhood, hundreds of people were still outside cleaning up the aftermath of an EF-3 tornado that demolished hundreds of huge trees, scattering them like bowling pins.
Huge trees were felled, ripping their roots to the surface and pointing in every direction. The sounds of chainsaws permeated the usually quiet area along Dexter-Pinckney Road, while residents worked feverishly to undo the wrath that sliced through the area Thursday evening.
Limbs and branches of every size littered lawns and the road remains closed until Thursday.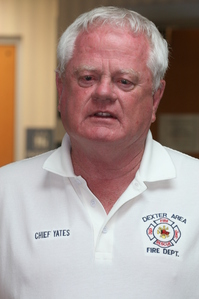 Lisa Allmendinger | AnnArbor.com
At Dexter Township Hall, an emergency board meeting was called to get an update on progress from emergency personnel, after which the township board voted unanimously to wave the fees for building permits for residents who are repairing their tornado damaged homes. In addition, they unanimously allocated $200,000 toward the clean-up efforts on public right of ways.
"This money is for the big stuff, the unsafe stuff, to get it out of there," said township Supervisor Pat Kelly.
Although the money would be used in specific sections of the township, Trustee Steve Feinman said, "It's for the public good. We're here for the health, safety and welfare of residents."
About 15 residents attended the meeting, several expressed concerns about the trees on their property and current road conditions in the area, which they said were already in bad shape.
They said the already bad roads would be further damaged by the heavy equipment hauled in by Harry Fox, an outside contractor, which is scheduled to come into the area for the clean-up efforts that are expected to last well into this week.
When all the trees are cleared, "There will be a veritable mountain of wood chips," said Jim Harmon, director of operations for the road commission. "Although Pat (Kelly) offered the township parking lot I told her it could literally fill the parking lot four times and be 40-feet tall."
As a primary road, Dexter-Pinckney Road is the primary focus of the Road Commission's current efforts.
"Hopefully, by the end of the week, we'll be closer to normalcy."
Loren Yates, chief of the Dexter Area Fire Department, who served as incident commander, said the fire department's tornado emergency response efforts were almost done, and they'd be returning to a normal shift schedule.
"I want to thank the spouses of the firefighters. It's pretty traumatic for the guys as it is. Take Mike Grissom, for example. He sees the tornado going toward his home, and he's heading out to help others. It's part of the job, and they do it well, but it's still a difficult situation," Yates said.
"The first responders who went door to door and with all the things they do, it's a miracle what they do," Kelly said, adding that the Washtenaw County Road Commission, which cleared a path through the trees for emergency vehicles, the Michigan State Police, and the Washtenaw County Sheriff's Department, "were all amazing."
Checkpoints, which have been in place in key intersections in both the Village of Dexter and Dexter township since the tornado blasted through the area, may remain longer in certain areas.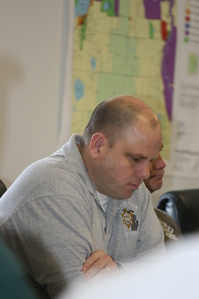 Lisa Allmendinger | AnnArbor.com
"We want to make sure everyone's safe and make sure that people aren't coming in looking for scrap metal," said
Lt. Brian Filipiak
, of the sheriff's office.
In addition, there have been numerous reports of "carpet baggers" coming into the area looking for work.
Officials said that the Departments of Public Works from Chelsea, Manchester, Saline and even Tecumseh had offered assistance in the clean-up efforts. "I want to give a shout out to the Chelsea DPW," Kelly said. "There were seven people here with heavy equipment for two nights."
Electricity was restored to most residents in the area by about 6 p.m. Saturday.
"I don't know how you got the power back on that fast," Kelly told Paul Ganz, a DTE representative who lives in Carriage Hills and as one of the officials who attended the meeting.
But there is still a lot of work to be done, and crews from ATT are waiting for the Washtenaw County Road Commission and an independent contractor that will be brought into the area to finish the tree removal. Several residents expressed their anger with the situation. One resident said, "Our homes have 20-30 percent less value than they did two days ago."
He asked if township officials would reassess their properties and reduce their taxes. Several residents also expressed anger about the number of trees they'd lost, asking if there was township money available to replace them.
Kelly said that while she was sympathetic to their concerns, "We need to prioritize. We need to get the trees cleared, the brush cleared, the roads open and get the kids back to school." Kelly said.
In other updates:
Mary Marshall, superintendent of Dexter Community Schools, said they are setting up a lost and found area to collect and distribute items recovered from the storm damaged areas. It will be located in a portable classroom at Creekside Intermediate School and open from 3-7 p.m. today and from 8:30 a.m. - 5 p.m. during the week.
Dexter Community Schools will be open Monday, and school officials were working on staging areas for student pick-ups. There will also be counselors from both Saline and Chelsea schools available for students. "Kids need to be able to tell their stories," Marshall said.
Assessments of the affected areas are being completed by county emergency operations officials for possible submission to the state or federal government for "emergency disaster funding." State Rep. Mark Ouimet, R-Scio Township, said there is only a total of $200,000 available for the entire state in disaster funding.
"If it's privately insured, it doesn't count," he said, and since 9-11, there are only specific things that are covered.
The township has opened its meeting room, which a WiFi connection, to township residents.
The monthly Dexter Township Board meeting has been changed from Tuesday night at 7 p.m. to Thursday night.
Lisa Allmendinger is a regional reporter for AnnArbor.com. She can be reached at lisaallmendinger@annarbor.com.