Posted on
Tue, Mar 13, 2012 : 5:51 a.m.
Dexter OKs resolution of support for regional fire department - minus the name
By Lisa Allmendinger
A combined Dexter-Scio fire department took a step forward Monday night when the Dexter Village Council unanimously approved a resolution of support for the "concept interlocal agreement for fire and rescue services."
However, the council members made a revision to the document by removing the proposed name of the department, Washtenaw Fire and Rescue.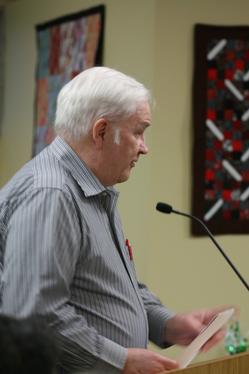 Lisa Allmendinger | AnnArbor.com
What to call a proposed department that will serve the Village of Dexter and Dexter, Scio and
Webster
townships has been a stumbling block as Dexter Area Firefighters, residents and some Dexter Village and township officials have remained adamant that Dexter remain part of the name for the combined department.
Monday night, longtime Dexter resident Robert R. Hoatlin told the Village Council that his father was the fire chief for the village for 25 years.
"The name of Dexter has been associated with the concept of community service and fire protection for 135 years," he said. "It would truly be a travesty to replace this venerable name with any other."
He also expressed concern about the $125,000 it is estimated to cost to change the names on uniforms and apparatus.
Hoatlin is not alone is his insistence that the history of the Dexter Fire Department be an important part of the future of a new regional department.
In the last two months, as the proposal has gotten closer to implementation, there has been a flurry of concern about the proposed name change of the department.
Monday night, Council Member Jim Carson said Hoatlin had summed up the importance of keeping Dexter in the name. "I was hoping to consider the concept without the proposed name," Carson said. "There is nothing else in this agreement that bothers me."
Council Member Ray Tell said he'd stopped by the Dexter Area Fire Department before Monday night's meeting and there were 60-70 people celebrating St. Patrick's Day. He said that he wanted to make sure that somehow 135 years of fire service history could be acknowledged.
He suggested perhaps retiring the name, hanging a plague, having some kind of dedication ceremony. "Something that acknowledges the past as well as the future."
Village President Shawn Keough said it was "never my intention to make this (the name) a contentious point."
He said one idea would be to consider is a "legal name for the larger, regional department" while keeping each fire department's name. He likened it to the Boy Scouts of America as a parent organization, yet each troop has an individual number.
Keough is the chairman of a committee of elected officials from the Village of Dexter, Scio, Dexter and Webster townships who have been working on this plan for two and a half years, something that Carson wanted the Village Council to keep in mind.
Council Member Paul Cousins also expressed his support for identifying the fire departments by their names on the trucks and uniforms. "I believe in the concept, but the name does make a difference."
In fact, Cousins suggested Mid-Huron or Middle Huron as a name because it defines a broader area. However, he, too, wanted to see Dexter's name included. "I won't vote in favor of the concept with Mid Washtenaw on it," he said.
Carson also acknowledged Courtney Nichols, assistant village manager and Keough for the work they've done on this agreement. "You both have put a lot of work into this for the last 2 and a half years. It's hard sometimes to bring it home. It will come home; there are just some details to be worked out."
The document the Village Council approved Monday night details how the two departments would combine and a new regional fire department would be funded and administered. However, all four communities must approve the agreement before a combined fire department would be formed.
"I realize the significance of all four municipalities agreeing on the name of the future department," a memo from Keough memo states. "However, at this time, I am asking for your support of the concept interlocal so that continued discussions can take place."
Scio Township officials have already approved a resolution of support for the interlocal agreement. Dexter Township and Webster Township officials are expected to vote on it in the next month.
Lisa Allmendinger is a regional reporter for AnnArbor.com. She can be reached at lisaallmendinger@annarbor.com. For more Dexter stories, visit our Dexter page.