Posted on
Sat, Mar 10, 2012 : 5:58 a.m.
Dexter Village Council expected to vote on regional fire department Monday
By Lisa Allmendinger
Following several discussions on the topic at previous Dexter Village Council meetings, it's expected that the council will finally vote on a resolution of support for a combined Dexter and Scio Fire Department Monday night.
Calling the approval of the resolution "an important step in a long process," Dexter Village President Shawn Keough asked for support from the council in a memo explaining the resolution. Scio Township already has approved a similar resolution.
Keough is the chairman of a committee of elected officials from the Village of Dexter, Scio, Dexter and Webster townships who have been working on this plan for 2 1/2 years. The committee agrees that a larger regional fire department will provide better fire and rescue service to residents in the four communities.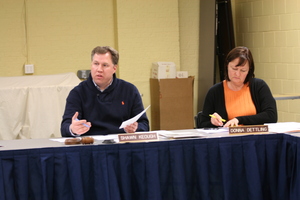 Lisa Allmendinger | AnnArbor.com
"I am requesting your official support of the conceptual interlocal agreement for fire and rescue services," Keough wrote. The document details how the two departments would combine and a new regional fire department would be funded and administered.
There has been a flurry of controversy from Dexter firefighters as well as village and township officials and residents surrounding the proposed name, which is currently proposed as Washtenaw Fire and Rescue.
"I realize the significance of all four municipalities agreeing on the name of the future department," Keough's memo states. "However, at this time, I am asking for your support of the concept interlocal so that continued discussions can take place."
The committee members have said that a combined department will provide a higher level of service for the entire region with quicker response times.
In his memo, Keough highlighted some of the benefits of a regionalized fire department, which include lower costs for village residents because of a new cost allocation formula and better budget control and predictability because the costs are based on three factors, population, state equalized value and a rolling three-year fire run average.
He states that there will be "operational efficiencies" and related cost savings because the village's "percentage of the cost for new equipment purchases and additional firefighters will be less because the resources are shared over a larger area and population base."
Currently, he said, the village is responsible for about 33 percent of all new purchases. Lisa Allmendinger is a regional reporter for AnnArbor.com. She can be reached at lisaallmendinger@annarbor.com. For more Dexter stories, visit our Dexter page.