Posted on
Fri, Mar 30, 2012 : 5:59 a.m.
Billboard inspires Dexter after tornado
By Lisa Carolin
Anyone who drives into the Village of Dexter headed west on Dexter-Ann Arbor Road will be greeted by a billboard meant to inspire. It reads: "Dear Tornado, Don't Mess with the Dreadnaughts. Dexter."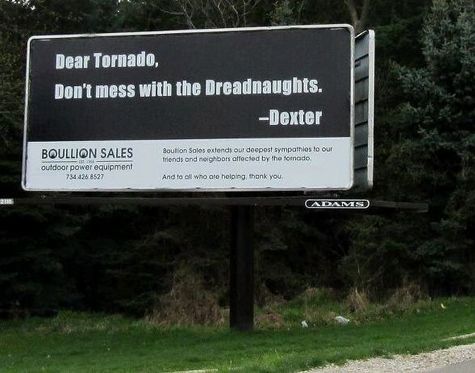 From Facebook
Underneath that message is the name Boullion Sales, the outdoor power equipment dealer located on North Territorial Road at Huron River Drive. Philip Boullion co-owns Boullion Sales.
"We wanted something on the billboard to show the community that we care what's going on and to give them something to stand behind," said Boullion, who purchased the billboard space last fall.
"My (ad content) was due the day the tornado hit. It didn't seem appropriate to put something for sale up on that board, so my girlfriend, Marie Frost, who designs all the billboards that we put up, and I brainstormed.
"After many hours of debate, that's what we came up with."
Boullion, who witnessed a funnel cloud from the front window of the business just before the tornado hit, said that neither the store nor his home in Dexter Township received any damage, but the homes of many people he knows were damaged.
"Dexter's not that big a town, and I have lots of family, friends, neighbors and customers who were affected," said Boullion.
The inspirational billboard went up on Wednesday, and Boullion said that after it was posted lthat night on Facebook, the response was amazing.
One person asked if the message could be printed on T-shirts and that's what Tracy Klein-Lambert, owner of Fancy Stitch on Dexter-Chelsea Road just outside of Dexter, is doing.
"We're paying for the cost of the shirts ourselves, Tracy is doing the printing for free, and the proceeds will go to the Dexter Fire Department," said Boullion.
"We're hoping to print 500 shirts and sell each one for a minimum donation of $10," said Klein-Lambert.
They'll be sold Saturday in downtown Dexter at the Dexter Bakery, Joe and Rosie's, Dexter Pub, Hackney Hardware, Aubree's, Red Brick, Fancy Stitch and Boullion's.
The Ann Arbor Cash Mob also is leading a "Tornado Relief Cash Mob Crawl" Saturday encouraging people to come and shop in Dexter.
Boullion adds, "Our community inspired us to put that sign up."