Posted on
Tue, Feb 28, 2012 : 5:58 a.m.
Horse saved by good old-fashioned ingenuity and a fire hose
By Lisa Allmendinger
Lisa Allmendinger | AnnArbor.com
State of the Heart, a 26-year-old retired Morgan show horse, owes her life to the ingenuity of two men and an old fire hose.
On Feb. 10, Heart's owner, Webster Township resident Amy McCarter, first noticed that Heart was walking strangely when the horse came into the barn from the pasture, but she thought it was because another horse was crowding her from behind.
But while the 1,000-pound horse was out in the pasture the next day, McCarter's husband, Howard, noticed that Heart was down and struggling to get up. He realized there was a serious problem and called his wife, and his father-in-law, Reuel Long, who raises miniature horses.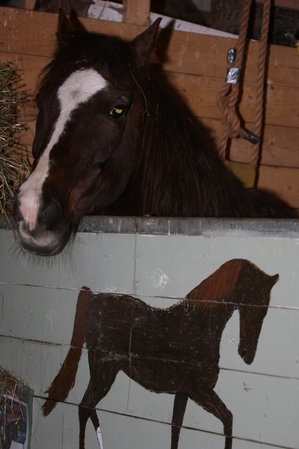 Lisa Allmendinger | AnnArbor.com
They got the horse up and inside the barn and called a veterinarian. It's believed that the horse has equine protozoal myeloencephalitis, which is a progressive, degenerative neurological disease of the central nervous system.
Heart was immediately put on medication.
But that didn't put a stop to the horse's problems. Until Heart could get the strength back in her hind legs, her struggles would continue while her immune system and the medication fought the disease.
But Long had an idea: He wanted to find a sling that could help the horse remain standing so she could heal, but would allow her to rest on something when she got tired. The problem was, he couldn't find anything online that would work. He discussed the situation with his friend, Loren Yates, chief of the Dexter Area Fire Department.
Yates told Long he thought he had something that might work, and the two headed to the fire house on Main Street in Dexter, where an old fire hose had recently been taken out of service because it had sprung several leaks.
"I'm thankful that Loren was here at the right time, and he and my dad put their heads together to come up with something. She wouldn't have made it otherwise," Amy McCarter said.
Yates said residents sometimes use old sections of hose as bumpers on their docks to protect the paint on their boats. The hose is 6-7 inches wide and is very durable.
"This is the first time this has come up," Yates said of making a sling for a horse.
So Long headed to Stadium Hardware - where he said the employees are always able to help him when he wants to build something unusual - and they helped him find the bolts he needed to build two slings that hang from heavy rope attached to the ceiling.
"The fire department saved Heart with old fire hose," said McCarter, who has owned the horse for 23 years.
Now supported both in front and in back, Heart is able to eat from her hay bag, nibble grain from her feeding trough, drink water and rest without falling down while she recovers.
"A lot of people would have just given up and had the horse put down," McCarter said. "I'm hopeful and I'm taking it day by day."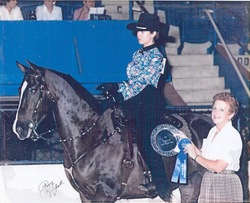 Courtesy photo
Heart was retired about 15 years ago following a successful career with McCarter in the saddle, and she currently lives with three other horses and a pony, none of which show any symptoms.
EPM has been found in horses for more than 30 years, and is one of the most commonly diagnosed neurological disorders of horses in the United States, according to the Purdue University School of Veterinary Medicine.
A recent USDA study revealed an incidence of 14 new cases of EPM diagnosed per 10,000 horses per year in the U.S., according to the school's website.
Long said many horses are exposed to the disease at one time or another in their lives but it's the young and old ones that are most susceptible to the disease. They suspect the protozoa were carried by an opossum that got inside the barn.
McCarter planned to begin taking Heart out for short walks this week as part of her recovery.
"She's been with me for 23 years," McCarter said. "And I'm hoping she can recover."
Lisa Allmendinger is a regional reporter for AnnArbor.com. She can be reached at lisaallmendinger@annarbor.com.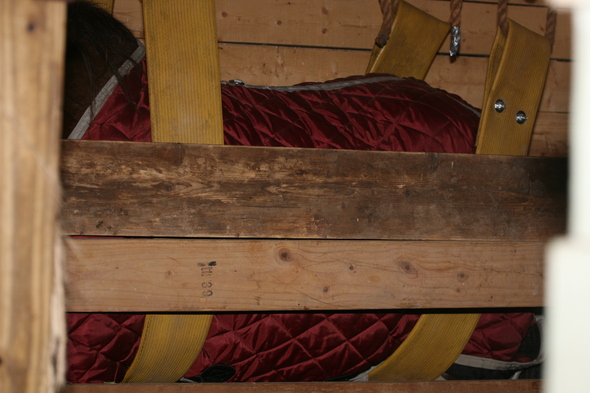 Lisa Allmendinger | AnnArbor.com