Posted on
Fri, Mar 16, 2012 : 2:48 a.m.
Huron Farms: Dexter neighborhood devastated after tornado damages dozens of homes
By Paula Gardner
House by house Thursday night in Huron Farms, residents of the Dexter subdivision assessed the damage from the tornado that tore through the neighborhood, destroying at least three homes and causing severe damage to dozens more.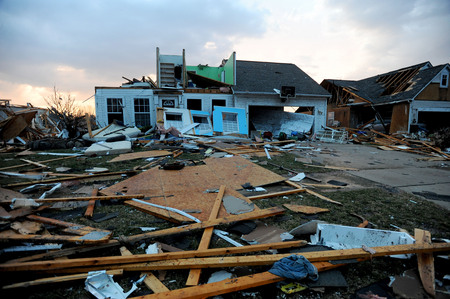 Angela Cesere | AnnArbor.com
They expressed amazement at the devastation, its most severe at the corner of York and Noble yet extending in some way to what seemed to be every single home.
They gave thanks at reports that no serious injuries were reported.
And they pulled together, trying to figure out what was needed: Shelter, care for a pet, a bottle of water.
Debbbie Haas, who lives on Quackenbush Drive, was in town when the storm hit, then she rushed home afterward.
She could not believe the extent of the damage to the dozens of homes, and teared up at the thought of the personal loss felt by her neighbors.
"These are the people I love,'' she said. "There's damage to my house, but at least we have a house.''
Sheriff's officials estimated that 68 homes were damaged in Huron Farms, located off of Dexter-Ann Arbor Road, just west of the commercial district at Dan Hoey Road.
Rescue crews were there right after the storm as they checked damaged properties and asked whether residents needed medical care. They returned in force hours later, as the rain finally stopped but nightfall overtook the neighborhood, with firefighters doing more door-to-door checks and police restricting access to the community.
The storm's effect on the homes was dramatic and obvious: Several were reduced to rubble, while more has extensive damage like roofs and walls blown off, exposing interior rooms.
Garage doors were turned to twisted sheets of metal around vehicles, a chair ended up piercing a roof, windows blew out, a car twisted in the street and random debris littered most of the Noble until small bulldozers pushed it away just before dark.
And the residents and their friends walked among the debris, stopping to greet each other, assure each other that they were fine and ask the question: What do you need?
"That's just the neighborhood," said Amanda Pollard, 17, as a friend left her open garage.
Just a few hours earlier, she was home alone as the warnings were issued that a tornado could touch down.
Her mother, Sandy Pollard, was heading home from Domino's Farms in Ann Arbor as the storm struck. By the time Sandy reached the Busch's and Country Market on Dexter Ann Arbor Road, there was torrential rain, and she could see debris flying through the air.
"That's when it hit me, 'I'm in a tornado,''' she said.
She said she tried to stop her car, but her car was still moving side-to-side, and she was screaming in panic.
Her main worry: Amanda. As she reached her house, she said the situation was unbelievable.
They went into the basement and stayed there for half an hour. They had no TV and couldn't get a weather report. She said they heard a window blow out upstairs.
The stayed downstairs until they heard firefighters pounding on their door to check on them. Sandra said they went upstairs and when they looked outside, the house across the street was destroyed.
She worried about the elderly resident, until she learned that he's believed to be OK.
"I felt like I was on the set of the Weather Channel,'' she said. "I heard no one was hurt. It's a miracle.''
Henry Haley, a contractor for Haley Mechanical, was trying to assist residents by turning off gas lines to their homes. He'd just come from the village, where the laundromat and car wash had been flattened in the storm.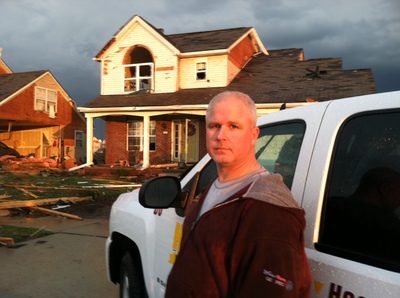 Paula Gardner | AnnArbor.com
There, he'd smelled natural gas and acted quickly to turn off those gas lines. Heading over to his friend's house on Noble, he quickly realized he'd need to do it at many homes there, too.
His worry: People would try to start their cars in their garages in an attempt to leave the area, prompting an explosion.
But getting close to the gas lines put him right in the heart of the storm damage. He knows many of the people affected, he said.
"A lot of these people are my customers,'' he said. "It's pretty tragic.''
Many neighbors were milling in the street Thursday evening, walking through debris, talking to each other and surveying the damage.
Gary Farber, who lives in a condo a few blocks from the heart of the damage, said he had never experienced a tornado before.
"These people's lives are turned completely turned upside down,'' he said of his neighbors.
Aaron Mitchell said he was in Ypsilanti with his children when he heard the tornado warning. He said he headed toward home, and by the time he reached Zeeb Road, he received a text message from a friend telling him about the damage in the neighborhood.
He arrived home about 7:25 p.m. and was standing outside his SUV, with his toddlers still in their car seats, while he tried to assess the damage. "I'm trying to get my brother to come get my kids so I can go inside,'' he said.
An hour later, he was still watching his children. But his wife had returned home, and she ventured inside, giving him a report.
"It's pretty bad," he simply said.
Most residents seemed to have heeded storm warnings, with some rushing to their basement as they could see the funnel cloud approaching from the northwest.
Jeffnier Copland was home on Noble with three children when she heard sirens. They rushed to the basement, but not before she saw a funnel cloud from her window.
"We heard an explosion," she said. "The wind was blowing out the windows."
By the time they emerged from the basement, most of the house's floors were covered with glass, and her back deck was in a neighbor's yard.
She joined her many neighbors in walking around, taking some photos but first asking if people were OK.
And, like her other neighbors, asking what she could do to help.
"We're just walking around," she said, "trying to see if someone needs something."
Paula Gardner is News Director of AnnArbor.com. She can be reached by email or followed on Twitter.