Posted on
Mon, Mar 19, 2012 : 7:31 p.m.
Sense of community shines in Dexter: 'I have never seen neighbors look out for each other this way'
By Lisa Allmendinger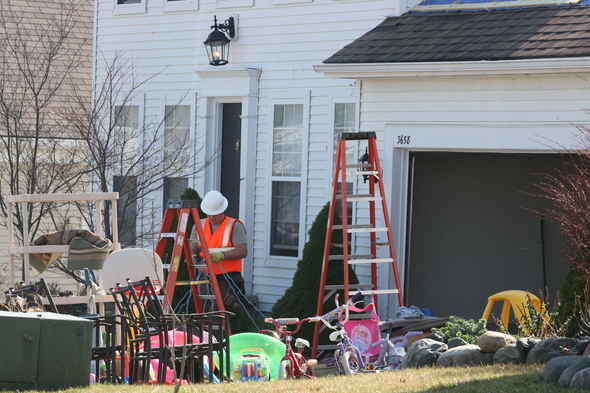 Lisa Allmendinger | Ann Arbor.com
Raymond Eddy is a veteran of weather-related disasters. As executive vice president of Statewide Disaster Restoration out of Southfield, he's seen the aftermath and worked with homeowners following devastating hurricanes most recently in Tuscaloosa and Birmingham, Ala.
Eddy has flown across the country to assist on the scenes of 13 major hurricanes and other natural disasters, but he said, "In my 22 years in this business, I have never seen neighbors looking out for each other the way they have here and a community come together the way the Dexter community has."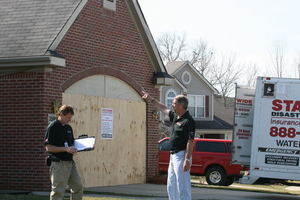 Lisa Allmendinger | Ann Arbor.com
He said his company is performing 31 emergency services for homeowners, which include the "initial triage" of other homes, repairing things like roofs and water damage and 15 to 16 "permanent repairs," that involve major structural damage to homes that resemble "doll houses" where entire sections have been ripped away by the winds.
"They lit this whole place up like a baseball stadium," Dexter Area Fire Department Chief Loren Yates said of the 10 generator-powered spotlights that Statewide Restoration brought into the Huron Farms neighborhood, which are used at night as a security precaution against possible looters.
But what other workmen said was important to them were the six portable toilets that were stationed in the subdivision for general use.
"And the hand sanitizer is always full in them," one workman said. For Lin and Barry Schaye, who bought a home on Huron Street in Dexter in May, it was "the efficiency of the Village of Dexter," that most impressed them.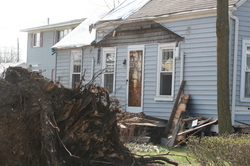 Lisa Allmendinger | AnnArbor.com
Lin Schaye said she and her husband were in Chicago, entertaining friends for a St. Patrick's Day dinner when they got the news that the EF-3 tornado that had gone through Dexter. When they arrived at their property Saturday, neighbors and construction crews were just finishing the cleanup of the trees that had littered their property.
She said they had a couple of broken windows and a little roof damage but, "We were really lucky."
That's unlike her neighbor across the street, whose home was "torqued" in the storm, the porch was destroyed and she said it's possible the home will need to be completely rebuilt.
Shelley Grissom, wife of firefighter Mike Grissom, rode out the storm in the basement of their home on Dexter-Pinckney Road in a pup tent with their three children. Meanwhile, her husband was doing his job, helping others in the Dexter community.
"It was an hour to an hour and a half before I knew if my family and my home was safe," Mike Grissom said.
Shelley Grissom said her ears started popping as the sounds of the tornado got louder and louder, so she took cover and began praying.
"The louder it got, the louder I prayed," she said. "I kept saying, 'Jesus help us. Jesus save us. Jesus keep my husband safe and us safe, and then I prayed for the neighbors."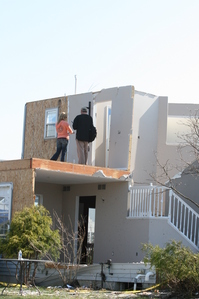 Lisa Allmendinger | AnnArbor.com
Once the storm had passed, she and the children couldn't get out of their home. "We had to climb over the front railing to get out," because trees had fallen all around the house blocking the doors.
In the Carriage Hills subdivision, Jen Boyce and her children were eating dinner and she heard the sirens going off on Thursday. "It started looking gloomy outside. Then I saw our trampoline take off across the front yard."
Then she heard a whistling sound so she headed to the basement with her three children and their dog, Bailey. Her husband, Dexter firefighter Ben Boyce, was on his way home from work. When he was finally able to get through, he assessed the damage to their home and then headed to the firehouse.
His family went to stay at a relative's home away from the tornado-ravaged area where there was electricity.
"We were lucky that nothing fell on the house," she said.
The Boyce's home did have some minor roof damage and "lots and lots of trees down. The children's play structure was demolished," she said. But all of them, including the family dog, were safe.
Monday afternoon in downtown Dexter, people were going in and out of the Red Cross Station at Creekside Elementary School where all kinds of items were being dropped off to help the victims of the tornado. One volunteer, Dexter resident John Hansen, was taking winter clothes to another location.
"You're heard of Two Men and a Truck, we'll I'm One Man and a Truck," he said. "I have a truck and I'm good at taking orders."
Lisa Allmendinger is a regional reporter for AnnArbor.com. She can be reached at lisaallmendinger@annarbor.com. For more Dexter stories, visit our Dexter page.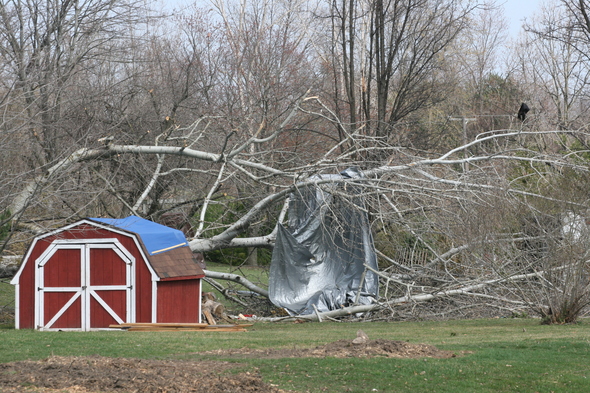 Lisa Allmendinger | AnnArbor.com