Posted on
Tue, Apr 3, 2012 : 11:22 a.m.
A look at Washtenaw County Emergency Operations when the tornado swept through Dexter
By Lisa Allmendinger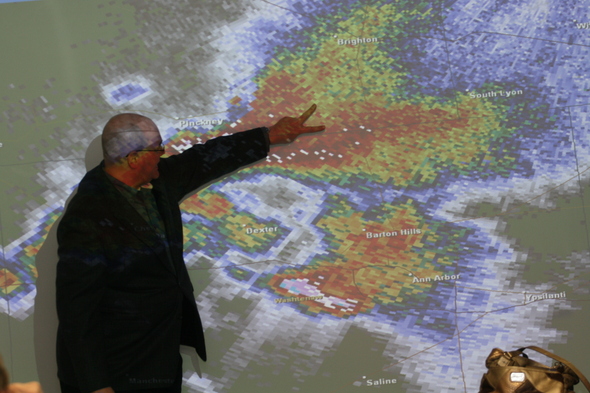 Lisa Allmendinger | AnnArbor.com
Editor's Note: This is another of a series of stories about the Washtenaw County Sheriff's Office Citizen's Police Academy classes, which take a close look at all the areas under the office's jurisdiction.
While residents in Dexter and Dexter Township were experiencing the wrath of an EF-3 tornado on March 15, Marc Breckenridge was in a cement bunker, helping to direct the county's emergency response to the natural disaster.
Breckenridge, director of the county's Emergency Operations, said 13 homes were destroyed, 23 sustained major damage and another 185 homes were affected by the tornado, which caused about $3.754 million in damages. Four businesses also were destroyed.
"In my 20 years with the county," he said, "This was the strongest tornado we've experienced."
While residents were seeking cover in basements, under stairwells and in interior closets, Breckenridge was safe in the emergency operations' 'war room,' located in the basement of the Washtenaw County Sheriff's Office on Hogback Road.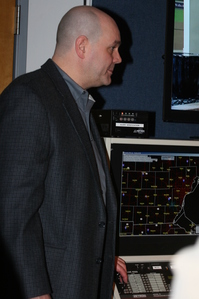 Lisa Allmendinger | AnnArbor.com
The room has no windows and is constructed of thick walls to protect the people and the many computer screens and specialized equipment that are part of the county's emergency operations.
On March 15, he said, thanks to the work of some of the 538 trained Skywarn spotters, the county's Emergency Operations Center was able to warn local officials well before the impending tornado carved a half-mile path through areas in Dexter and Dexter Township.
Sarah Taylor, county dispatch operations coordinator, said about 1,400 calls per day are answered by 911 operators. On March 15 from 5-9 p.m. more than 800 calls came in, including about 354 911 calls.
Breckenridge said he was able to activate the emergency warning sirens "across the northern tier townships," and set in motion a plan that alerted first responders, area hospitals, schools and banks of the possibility of a tornado.
He said near the affected areas, there are two outdoor sirens in Dexter Village, one each at nearby Portage Lake in Dexter Township, a siren at Parker and Jackson roads and another at Jackson and Baker roads. In total, there are 39 outdoor emergency warning sirens, which cost about $20,000 each plus a $500 yearly maintenance fee.
And for those who can't hear them, Breckenridge said "there are limits to their output," he said.
At one time, the county was purchasing two per year with grant funding but in 2009, that funding was cut, he said.
However, "Webster Township is looking at a possible millage to purchase two sirens," he said.
"Convective weather (which includes severe winds, lightning, tornadoes and hailstorms) is the county's No. 1 hazard," Breckenridge said, adding it's so dangerous because there is nothing that can be done to stop it.
No. 2 on the hazard list is transportation-related hazardous materials incidents, while No. 3 is fixed site hazardous waste incidents followed by severe weather hazards such as ice, sleet and snowstorms.
Breckenridge said a lot of planning has gone into the most effective ways to deal with emergency situations such as severe weather events and hazardous material incidents before, during, and after an event throughout the county.
Breckenridge said residents should purchase a weather radio, have a three-day supply of water per person, which amounts to 1 gallon per person, and have a family emergency supply kit packed for emergencies.
For more information, click here.
Lisa Allmendinger is a regional reporter for AnnArbor.com. She can be reached at lisaallmendinger@annarbor.com.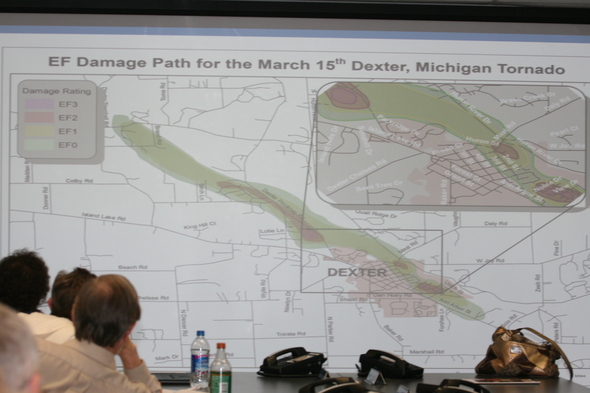 Lisa Allmendinger | AnnArbor.com