Posted on
Sat, Mar 17, 2012 : 5:59 a.m.
Dexter neighborhood picking up the pieces after tornado: 'We just want everything back to normal'
By Danielle Arndt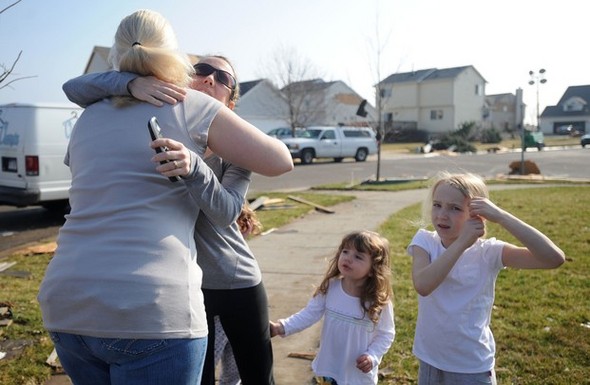 Angela J. Cesere | AnnArbor.com
Residents in the Huron Farms neighborhood in Dexter have been picking up the pieces since a tornado damaged more than 100 homes Thursday evening.
Angela J. Cesere | AnnArbor.com
The
American Red Cross
deemed 13 homes a total loss. The Red Cross Disaster Action Team began assessing the damages at about 7:15 a.m. Friday.
House insulation hung from trees like icicles; basketball hoops were wrapped around what trees remained standing; shingles, children's toys, clothing and other "liter," as one child called it, was strewn everywhere.
All day Friday, residents, insurance agents and large disaster relief trucks pulling trailers, trash containers and backhoes clogged the streets.
Children rode around on bicycles snapping cellphone pictures of the damage and searching for their missing playground equipment. Several people reported not knowing where their trampolines and swing-sets had blown during the storm.
Some of the insurance companies set up tents and tables for distributing information and water to victims. Agents walked around offering assistance to their clients and restoration specialists walked around trying to stir up extra business.
Placing tarps over gaping holes in roofs and walls and boarding everything up was just the first step, said Tim Hohl, a sales estimator with Belfor Property Restoration.
"We perform mitigation to prevent other further damage from the rain and the elements," Hohl said.
Then begins the documenting and photographing of everything that was lost or damaged, he said. If there is damage to the structure, the homeowner and the restoration contractor would discuss a cost estimate for repairs and negotiate an agreement of the costs with the insurance company, he said.
Hohl said the process could take up to three to four months.
He said restoration companies also help homeowners "manipulate" the debris with a backhoe so they can get inside their homes and recover important belongings.
Some residents, too overwhelmed to know how to begin, waited somberly for insurance agents and adjusters.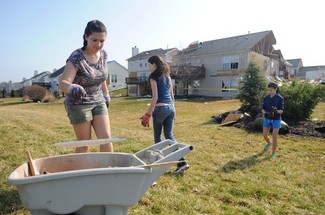 Angela J. Cesere | AnnArbor.com
"It's almost too much to take in," said
Erin Kennedy
, whose home suffered minor damage — some broken windows, missing shingles and water damage.
Wendy Martin fielded phone call after phone call from friends and relatives eager to lend a hand, while several other friends waited in her driveway.
"It's definitely overwhelming. I'm not quite sure where to start," she told them. "But we don't feel hopeless."
Martin was home with her two children when the storm hit. They immediately went into the basement when the tornado warning was issued.
"Normally, we'd sit down there and hang out, and it's kind of fun," she said.
But when she heard the "freight train" and her ears started popping, she looked out the window and saw her children's swing-set blow across the lawn.
"(The kids) were terrified. They were screaming. I was crying," she said.
The children's rooms were completely exposed. The tornado ripped off the roof and back wall from that part of the Martins' home.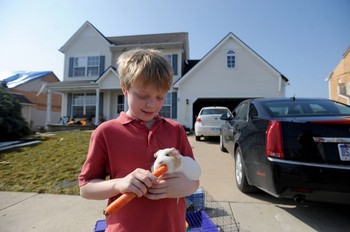 Angela J. Cesere | AnnArbor.com
Parents repeatedly told children the important thing is that no one was hurt and things and toys can be replaced.
Griffin Bartscht, 9, rewarded his guinea pig, Hermione, with a carrot Friday after the traumatizing ordeal she went through Thursday. Hermione and the family's cat were home alone at the time of the storm.
Hermione was in Griffin's bedroom in her cage when the tornado tore off the wall to his room.
"She was still there, still intact, just the wall was missing," his sister Taylor Bartscht, 21, said.
Ten-year-old Sydney Yount said she was scared her whole house would blown down.
"My friend's house looks like a dollhouse," she said. "There are no walls and I was afraid because I didn't know where we would sleep if that happened to us.
"I am scared because there is all this glass and litter and someone is going to step on it and get hurt. ... It looks horrible," she said of her neighborhood.
The Stauffer family decided to get to work on cleaning up its yard immediately. Ricke, Charity and their 4-month-old baby had some help from Charity's parents and brother.
The group began sweeping up glass and raking branches and other debris into piles on the Stauffer's front lawn while they waited for an insurance adjuster.
Ricke also made sure to vacuum out his vehicle, which had its windows burst inside the shut garage.
"We just want everything back to normal," he said.
Staff reporter Danielle Arndt covers K-12 education for AnnArbor.com. Follow her on Twitter @DanielleArndt or email her at daniellearndt@annarbor.com.