Posted on
Tue, Mar 20, 2012 : 8:07 p.m.
Industrial-strength grinder helping crews deal with large trees on Dexter-Pinckney Road
By Lisa Allmendinger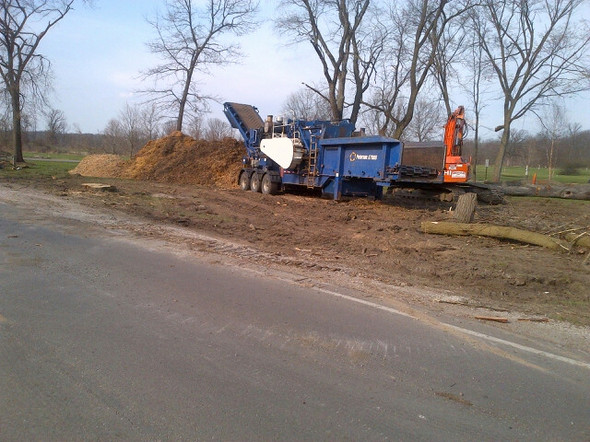 Courtesy photo from the Washtenaw County Road Commission
Editor's note: Additional information has been added to this story to explain the details of the $20,000 cost for the machine.
An industrial-strength grinding machine from Macomb County has arrived on Dexter-Pinckney Road in Dexter Township to assist the Washtenaw County Road Commission in clearing a road that's been closed since last Thursday and that usually sees between 18,000 and 20,000 cars a day.
Tuesday afternoon, Jim Harmon, director of operations, told the Road Commission board that it will cost $20,000 a day for the special grinder and chipper, but it's necessary.
"The $20,000 per day cost includes all of our contractor's labor and equipment. Harry Fox, Inc. has mobilized approximately eight heavy equipment operators, two hydraulic excavators for grappling trees and removing stumps, two large front-end loaders for loading timber, pushing debris, and loading chips, a forestry skidder, a tandem dump truck, the mobile grinder/chipper, and three truck and semi-trailers to haul away the wood chips," Harmon said.
This cost also includes Road Commission crews and employees, he said.
"We have four or five days of work ahead," he said, adding that crews are trying to clear the tree debris first on the section of Dexter-Pinckney Road from Alice Hill Drive to Wylie Road so it can be reopened. Crews then will move from Wylie Road south to Island Lake Road.
The large trees will be ground up and the debris will be trucked to a location outside of Washtenaw County, Harmon said.
The Road Commission's Chelsea district crews are out in the township led by foreman Dave Trinkle, Harmon said.
Foreman Don Hall and the heavy equipment crews are on the scene, as well as some members of Group Leader Tony Grubb's District 1 crews, Harmon said. About 15 employees in total are concentrating on cleaning up Brand and Quigley roads as well as Huron River Drive.
Once all the trees and branches are removed, then the crews will sweep the road and determine any damage to a road, which was recently resurfaced. He said the road has already been scarred and it may need to be sealcoated once the cleanup operations have been completed.
Plus, he said AT&T needs to get into the area to install about 7,000 linear feet of wire and replace a numerous telephone poles. Road Commission Chairman Doug Fuller said another assessment would be done by the end of the week.
Lisa Allmendinger is a regional reporter for AnnArbor.com. She can be reached at lisaallmendinger@annarbor.com.