Posted on
Mon, Mar 19, 2012 : 1:35 p.m.
Top 5: Lessons I learned from the Dexter tornado
By Paula Gardner
When I left Ann Arbor late Thursday afternoon after hearing a report of a tornado in Dexter, I didn't know what to expect.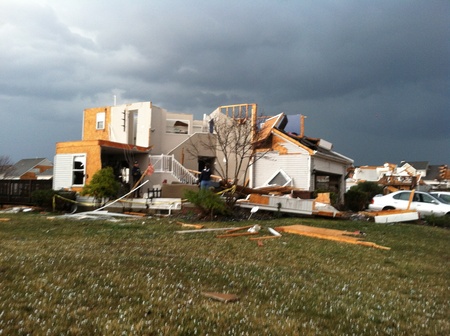 Paula Gardner | AnnArbor.com
The hail that pummeled my car as I drove along Dexter-Ann Arbor Road was the largest I'd seen, prompting me to pull over and even videotape it.
The first house that I stopped at had a damaged roof and a family of five that spent part of the storm on the front porch and the rest in the basement as the storm's intensity accelerated. Moments later, we stood on their porch, marveling at the canoe that had blown across the yard and the fact that they were all safe.
Then I saw a parade of emergency vehicles from multiple departments heading west, indicating that the damage - and possibly injury - total could be far worse that what I'd found at my first stop.
Moments later, I was pulling into Huron Farms and found myself speechless.
My experiences as a journalist that night were just part of AnnArbor.com's coverage, which continued through the weekend and today as the community still tries to mitigate the damage and restore as much normalcy as possible.
We've all seen natural disasters, at least from a distance. What happened in Dexter brings it so much closer to home.
What's stunning to me, days later, is that no one died during the storm, or even its aftermath as trees covered roads and power lines fell.
I went home early Friday morning, tired, wet and chilled. And I marveled at what I saw and experienced.
Over past several days, I've wondered if my first impressions would change.
Since they haven't - and, in fact, I believe them to be more true after watching the community's reponse - I'm sharing them now.
Here are my Top 5 lessons that I'm taking away from the Dexter tornado:
1. A tornado's path is uncomfortably random: There's simply no way to describe standing in the middle of a subdivision street and realizing that every single home you can see is damaged, if not destroyed. That night, I could see devastation - but I didn't know what else had been damaged, where that might have happened or who might have been hurt. Our focus that night was on buildings and the people in them, but then learned about the path of the tornado and how it randomly took out massive trees north of Dexter, businesses in the village - but not the landmark cider mill - and the homes. There was no real logic or predictability for much of the storm. The lucky person who can still live in their home may be just a few feet away from the person sifting through rubble for keepsakes.
2. But safety precautions pay off: No one can control a tornado's path, but we can control our response to it. The lack of serious injury in Dexter is miraculous. I will never again hear an alert and cavalierly ignore the recommendation to go to the basement. (And will proudly harangue my husband to get off of the porch, where the "view" of the storm is better.) People in Dexter who were in their homes - or even caught in commercial buildings - on Thursday did everything right.
3. First responders work tirelessly: I've seen police and firefighters doing their jobs in some of the worst circumstances imaginable over the last few decades, and know that it can be hard to stay in control during the most challenging rescue scenes. But the sense of teamwork that night from those first responders - even as some of them drove for miles to assist - was exceptional. Every police officer and firefighter that I talked to or witnessed in the field was calm, professional and helpful, even during the hours that they didn't know what they'd find as they knocked on doors or drove the streets of Dexter.
4. 'How can I help?' We may doubt human nature at times, but my faith in people was revived on Thursday when I heard, over and over, people trying to figure out what was needed, and took any step they could to accomplish it. This was visible to me in my first moments in Huron Farms, as I talked to a woman who weathered the tornado with her children in their basement and emerged to find their windows blown out and deck blown across the yard. Moments later, she was walking along Noble Street, asking whether anyone needed anything. People who could make a difference - those with heavy equipment or knowledge of gas lines - just showed up, knowing they could do something. And the volunteering hasn't ended.
5. Leadership is vital. What really seemed to define the aftermath of the tornado is how it's not just people showing a willingness to help: It's also about the larger community and how it's setting a tone for mobilizing volunteers, donations and cleanup. One example is the Dexter Community Schools. My first stop after leaving Huron Farms on Thursday night was Mill Creek Middle School, where the building was open, buses were ready and volunteers greeted me. The schools were open all weekend, providing a destination and community focal point for children's activities, counseling, donations and even a lost & found. No one in Dexter needed to wonder what to do or where to go, whether on the volunteering or seeking help side of the tornado. It felt extraordinary on Thursday. It seems more so today.
Paula Gardner is News Director of AnnArbor.com. She can be reached by email or followed on Twitter.