Posted on
Sat, Mar 17, 2012 : 6:27 p.m.
National Weather Service map shows path Dexter tornado took
By Cindy Heflin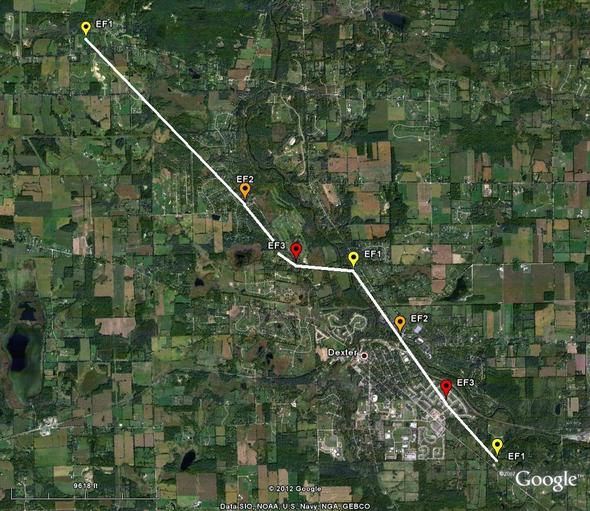 National Weather Service map
The National Weather Service has posted a map and description of the path taken by the tornado that struck the Dexter area Thursday, damaging at least 100 homes and destroying 10.
The tornado first touched down at 5:17 p.m. northeast of North Territorial and Dexter Townhall roads. At that point, it was what the weather service classifies as an EF-1 tornado, with winds of about 100 mph. It uprooted trees and caused minor roof damage, the weather service said.
The weather service rates tornadoes on the Enhanced Fujita Scale from EF-0 to EF-5. An EF-1 storm has winds of 86 to 110 mph. The weather service said Friday that the Dexter tornado was an EF-3 storm at its strongest point and covered a path 7.2 miles long and up to 800 feet wide.
The tornado then hit Horseshoe Bend Drive in the Carriage Hills subdivision with EF-2 winds of 120 mph, causing structural damage to the outside of homes. It moved southeast along Dexter-Pinckney Road and intensified to an EF-3 storm at 5:31 p.m. The storm, by now packing winds of 135 to 140 mph, destroyed a home northwest of Dexter.
The tornado then took a left turn and moved along Huron River Drive, weakening to an F2. By 5:49 p.m. when the storm struck the Huron Farms subdivision, the hardest-hit neighborhood, winds had climbed back to EF-3 strength of 135 to 140 mph, the weather service said.
As the storm moved southeast, it began to weaken and lifted at 5:52 p.m. near Zeeb and Dexter Ann Arbor roads, the weather service said.
The weather service also has posted graphics showing other information about the storm, as well as photos and a map of the path of the tornado that hit Lapeer County Thursday.
A map posted earlier shows reports from storm spotters of tornadoes, funnel cloud sightings and hail around southeast Michigan Thursday.
Contact Cindy Heflin at 734-623-2572, or cindyheflin@annarbor.com or follow her on Twitter.