Posted on
Wed, Aug 18, 2010 : 6 p.m.
Business owner picks up the pieces after vehicle drives through Honig's Whistle Stop Inc. in Scio Township
By Heather Lockwood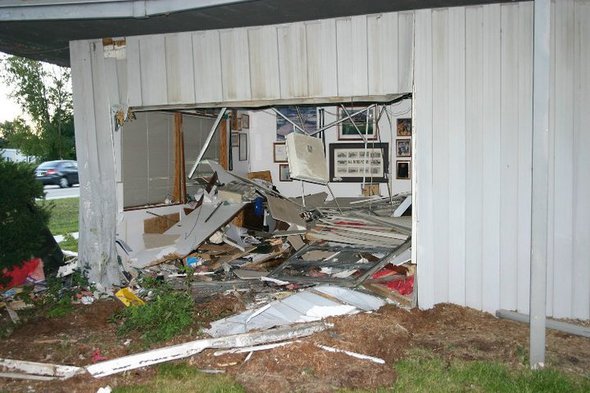 Photo courtesy of Honig's Whistle Stop Inc.
When a portion of Jackson Road in Scio Township was widened into a boulevard a few years ago, bringing the edge of the road within about 30 feet of his office, Dick Honig had safety concerns.
The owner of Honig's Whistle Stop Inc. said his fears were realized Monday night when a driver apparently lost control of a vehicle and drove into the Jackson Road office.
"Literally, his vehicle was totally inside my office, right over my desk," said Honig, who - along with the rest of his staff - had left a short time before the crash. "If I had been sitting at my desk, I would not be talking to you."
Derrick Jackson, director of community engagement for the Washtenaw County Sheriff's Office, said a suspected drunken driver lost control of his vehicle and drove into the building. The driver suffered non-life threatening injuries, was transported to an area hospital and has been released.
Honig said he had been worried about the road widening all along.
"When they re-did the road, they made it 30 feet from my office, and you've got cars going 50 miles per hour," he said. "I'm sitting here right now and there's trucks, semis flying by."
He says he's considering installing a cement barrier between his business and the road, but he's not sure whether the township will permit it and expects he'd have to pay for it.
"We've been put in this position, and it wasn't really necessary," he said. "They didn't have to make the median as wide as they did."
Honig said the damage was confined to his office and the restroom, so the sports officiating supply company is still able to operate. And though he did not have an exact figure, he estimates damages to be about $15,000 to $20,000.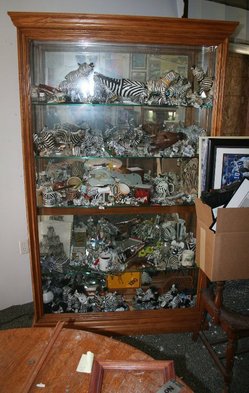 Photo courtesy of Honig's Whistle Stop Inc.
But some things won't be easily replaced.
"We've been going through the rubble to see what I've lost," Honig said. "I have a major collection of zebra (figurines) here, and unfortunately the cabinet got knocked down."
The silver lining is that although the entire case was knocked over, somehow only about five of the hand-made zebras were broken.
Honig said he started the collection 30 years ago, and has about 100 from all over the world. When asked why he was drawn to zebras he said, "All of the product we sell is black and white stripe."
He added, "Everyone's living. These things are fixable."
Heather Lockwood is a reporter for AnnArbor.com, reach her at heatherlockwood@annarbor.com, or follow her on Twitter.