Posted on
Fri, Mar 2, 2012 : 9:40 a.m.
Dinner with U-M coaches benefits Emergency Student Aid Fund; resident asks others to respect Doyle Park
By AnnArbor.com Staff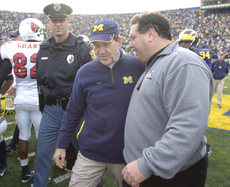 From a benefit dinner with University of Michigan football coaches Lloyd Carr and Brady Hoke to an Ann Arbor resident's plea to keep a local park clean, here's a roundup of some of the stories posted on AnnArbor.com's Community Wall this week:
By: Mark Wilhelm: Eat Dinner with Coach Carr, Coach Hoke, Dhani Jones, and Mike Martin!
Have you ever wanted to eat dinner with a Michigan football legend? Here is your chance.
By: Caroline Rankin: Urgent Message: Please stop desecrating Mary Beth Doyle Park and forest!
I live... near Mary Beth Doyle Park. I have frequented the park and woods that surround it ever since I was a child... This is why it is so upsetting for me to see evidence of disrespect and destruction against a place that offers itself as a refuge from the outside world.
By: Mary Westhoff: Canine Good Citizen Test
By: Laurie Dawson: Win Big For Kids Dinner & Raffle
By: Chase Ingersoll: Election Day Political Spam
By: Full Circle Community Center: Laughter IS the CURE!
By: Tanner Friedman: "60 and Better" Health Series Fall Reduction Workshop coming to The Cedars of Dexter
By: Food Gatherers: Kitchen Confidential
By: Laura: 8th Annual Pinckney St. Patrick's Day Parade
By: Darwin Ries: Manchester True Value Hardware Reopens
By: Pufferb: Saline Craft Shows Present - Spring Craft Show - March 24th
By: Sritter: Aim High School Open House
By: Golden Limousine International: Golden Detroit Brew Tour and Palio/Golden Wine Tour of SE Michigan
Arbor.com's Community Wall is a spot for local people to post local stories, news and announcements. To post a story, sign in to AnnArbor.com, then go to www.annarbor.com/community and use the Got News? Tell Us function at the top to submit your news. If you have a photo to add, e-mail it to us at community@annarbor.com, and we'll insert it into your story.