Posted on
Mon, Mar 8, 2010 : 9:32 a.m.
Dino's Dugout in Milan under investigation for Jell-O wrestling match
By Art Aisner
The Michigan Liquor Control Commission is investigating a Milan bar for possible violations stemming from a Jell-O wrestling event on Super Bowl Sunday, officials said.
Dino's Dugout Sports Lounge could be sanctioned for at least four possible violations pending a review by the Michigan Attorney General's Office, said Andrea Miller, an LCC spokeswoman.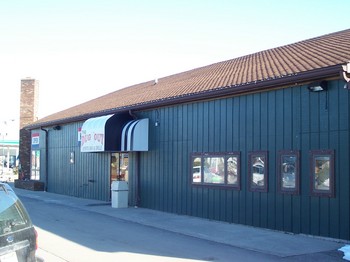 Art Aisner | For AnnArbor.com
The violations include: possible sale of alcohol to intoxicated individuals, allowing intoxicated people to loiter, giving alcoholic beverages away for free, and entertaining without an entertainment permit, Miller said.
The incident came to light after a 29-year-old woman who participated in the event was arrested for drunken driving shortly after leaving the bar at about 10 p.m. on Feb. 7.
Police reports indicate Jennifer Lynn McComas was detained after running a stop sign clad in only a bikini and covered in orange Jell-O.
Officers opted not to perform their normal sobriety tests due to her lack of clothing and frigid temperatures. She failed some tests performed while sitting in the vehicle and had a blood alcohol content of .147, nearly double the legal limit to drive in Michigan, reports said.
McComas was charged Wednesday with one count of operating while intoxicated, according to court records. It is her second offense.
Milan Police Chief Jeff Lewis said the department also forwarded the report to the Liquor Control Commission, the state's licensing and regulatory body for establishments that serve and sell alcohol.
Lewis said he didn't believe any crimes occurred, but felt some administrative rules that could impact the liquor license were violated. 
Neither he nor Miller would discuss further details while the investigation is ongoing.
Miller said the case was forwarded to state attorneys last week as part of their standard procedure, and the review could take a few weeks. Possible penalties range from fines up to license suspension and even revocation.
The bar is located in the same building as the Campfire Restaurant, which owns two liquor licenses for the premises, state records show. The LCC last cited the ownership in 2004 for a bad check. 
Both establishments remain open during the review.
Owner Dino Koukoumtzis said he hasn't had any contact with the LCC but was aware police forwarded the case for further investigation. He said he wouldn't comment on the allegations until the LLC completes its probe.
Koukoumtzis defended the decision to host the event and said he took precautions to keep participants and patrons safe, including renting a room at a nearby hotel and arranging a designated driver for the participants. He said he'd likely plan similar events in the future.
"It was fun event with an excited crowd and I got a lot of comments that people would be back," he said. "I did what I could to do prevent negative things from happening, but it happened anyway for (McComas), I guess."
Art Aisner is a freelance writer for AnnArbor.com. Reach the news desk at news@annarbor.com or 734-623-2530.