Posted on
Fri, Feb 24, 2012 : 3:45 p.m.
'Doc' Hergott, well known Ann Arbor veterinarian, dies at 86
By Lisa Allmendinger
Jeremiah "Doc" Hergott, well known throughout the county as the former owner of Ann Arbor Animal Hospital, died this week following a brief illness.
Hergott, 86, was known as an animal lover, an extraordinary orthopedic surgeon and "quite a character" his children said.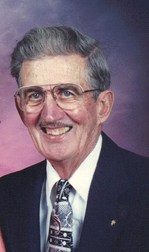 Courtesy photo
"He was way ahead of his time," said Jean Hergott, one of his nine children. "He was very good at surgery and he did a lot of procedures that no one else was doing at the time."
After moving to Ann Arbor from Dearborn, the small animal veterinarian bought Ann Arbor Animal Hospital and practiced there for 30 years before selling it.
His first patient was a newborn foal that was carried into the clinic and placed on the exam table, Jean Hergott said. When her father walked in and reminded the client that it was a small animal clinic, the client said, "This is a small animal. I carried it in here, didn't I?"
Hergott said her father treated the foal, but reminded his own daughter that he preferred to treat dogs and cats, inside, out of the mud, and in temperature-controlled climates.
"He wouldn't even go out and look at my horse," she said. Her father looked at horses this way, she said: "One end bites. The other end kicks, and I'm not going to go stand out in a muddy field."
Doc Hergott was known as a trail-blazing surgeon and many patients were referred to him from surrounding veterinary practices, she said.
Anything that arrived in a shoebox, a hamster or gerbil, for instance, got free care, she said. Jean Hergott told the story of a young boy who brought his sick gerbil into the office. The animal was quite ill and wasn't going to make it, she said. So her father told the boy to come back in the afternoon and he'd see what he could do to cure the pet.
While the boy and his father were gone, he sent one of his employees out to buy another gerbil and when the child came back and saw the lively pet, he was happy and the father was happy.
"That was my dad," she said. "I can't think of anyone who met him, who didn't like him."
She said he liked a good party and was very involved in his church.
Rick Hergott, one of his sons, said all nine kids worked for the veterinary office at one time or another, either inside cleaning it or outside sprucing it up.
"When we'd ask about pay, he'd tell us that we were having dinner that night or that our reward would be great and come much later."
Rick Hergott said one of his father's favorite sayings was "A busy lad is a happy lad."
He said his father was very "particular about how the outside of the veterinary hospital looked" and his children were constantly tending to the flower gardens and sweeping the parking lot."
They learned early on that "a job worth doing is a job worth doing right," and their dad would make them redo it until it was exactly the way he wanted it done. "You learned early on you might as well do it right or you'd end up doing it over and over and over."
Although none of his children chose to become a veterinarian, Rick Hergott's wife, did, and she has a practice in Grass Lake. He said she still uses some of the techniques that his fahter taught her.
"He always used to say he didn't make a lot of money, but he had a lot of fun," Rick Hergott said of his dad.
Doc Hergott was born in Maidstone, Ontario, an only child, and graduated from Ontario Veterinary College in 1949. He was a veterinarian in Dearborn for 10 years before moving his family to Ann Arbor in 1959, when he bought the Ann Arbor Animal Hospital.
"He truly loved being a veterinarian," Jean Hergott said, and often brought dogs into the family home, letting them sleep on the bed, rather than inside the veterinary practice.
"When he went back to the office, he always had a dog in there with him," she said.
Hergott was also instrumental in developing a 24-hour animal emergency clinic in Washtenaw County, she said, and area veterinarians were put on a rotation to cover late-night emergencies until a clinic opened.
He served as president of the Southeastern (Detroit) Veterinary Association, the Washtenaw Academy of Veterinary Medicine and was a long time board member of the Michigan State Veterinary Association. He also served in many capacities in the state and local veterinary associations, according to his obituary.
The long-time member of St. Joseph Catholic Church in Dexter married Theresa Wanklin in 1948, and they had nine children. She preceded him in death.
In 2003, he married the former Nancy Stanton, who survives.
Hergott is also survived by his nine children: Judie Stoll, Richard, Patrick, Thomas, Susan Gregg, Jean, Kathy Miller, Cheryl Wilson, Denise Hammond, and 11 grandchildren and 12 great grandchildren.
The family will receive friends on Sunday from 2-6 p.m. at the Hosmer-Muehlig Funeral Chapel in Dexter. At 7 p.m., there will be a scripture service at the St. Joseph Catholic Village Church in Dexter.
A Mass of Christian Burial will take place at the church on Monday at 11 a.m., with a visitation from 10 a.m. until the time of Mass. Burial will follow at St. Joseph Catholic Cemetery, Dexter . Memorial tributes may be made to St. Louis Center, 16195 Old U.S. 12, Chelsea, MI 48118 or Arbor Hospice, 2366 Oak Valley Drive, Ann Arbor, MI 48103.
Lisa Allmendinger is a regional reporter for AnnArbor.com. She can be reached at lisaallmendinger@annarbor.com.