Posted on
Wed, Mar 21, 2012 : 2:59 p.m.
Ann Arbor couple mourns dog that drowned in crate during apartment flood
By Danny Shaw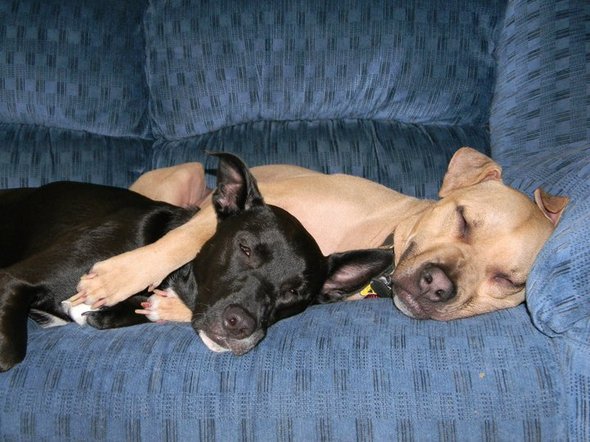 Photo courtesy of Laura Johnson
Laura Johnson was having an average day last Thursday. The busy University of Michigan nursing student left her Ann Arbor apartment to run some errands, planning on being gone for less than an hour.
Johnson returned home 45 minutes later - after storms with heavy rain pummeled Washtenaw County - to a scene that she could only describe as "very graphic and terrifying."
The parking lot leading up to her bottom-level apartment was flooded, with water covering hoods of cars and rising above the windows. She saw her boyfriend carrying a large box from outside of her apartment.
Inside was Lola, their 3-year-old black mixed-Labrador retriever. She had drowned.
Johnson had left her beloved pet in a dog crate, where Lola often napped, so she wouldn't chew into any electrical cords or knock anything over while home alone.
Lola was still inside when more than four feet of water filled the apartment.
"It was horrific," Johnson said, crying. "Evan tried to give her CPR a few times. ... She was really very young. I don't know when I'm going to be able to get through this. ... She was my first puppy."
Johnson's apartment was one of seven units at Park Place Apartments that flooded in last Thursday's storm, which also produced a tornado that swept through Dexter.
While people at the scene confirmed last week that the dog had died, Johnson declined comment at the time.
Days later, she and her boyfriend, Evan George, remain devastated over their loss.
George found Lola at around 6:45 p.m. Thursday, after the downpour struck Ann Arbor and as flooding overtook the lower level of the complex.
"I pulled into the pond," George said, referring to the flooded lot, "and I was talking to Laura on the phone. I told her it looked like the apartment was flooded.
"She said, 'Oh my gosh, Lola is in her crate.'"
"Then I told her I was going in," he added.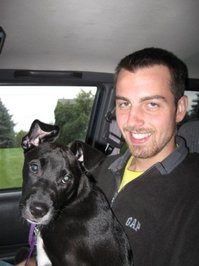 Photo courtesy of Laura Johnson
George said when he got into the apartment the water was higher than his waist and things in Johnson's living room were floating everywhere. He frantically looked for Lola, thinking she might've gotten out and was on the bed or couch.
"I found the crate," he said, hesitating and taking a breath. "She was in there. I waded over to the bed and took her out. I didn't know how long she was under so I tried CPR a few times. It was too late."
"I keep thinking what if I had charged in there sooner, or if maybe I came by earlier. ... We just think back about many, many things that we could've done.
"It's devastating."
George said he arrived just before the fire and rescue crews did, but he said "knowing our dog was in there, I was going in no matter what."
Johnson said Lola will be cremated with her favorite ball. Their veterinarian at Easthaven Animal Hospital even made a plaster mold of Lola's paw print for them.
"It's a very sweet thing," Johnson said. "I lost a lot of pictures in the flood. It's very compassionate of them."
While McKinley Inc. CEO Albert Berriz said Monday that all displaced residents were offered other units, Johnson said she has yet to be contacted.
"The first I heard about it was when I saw the article Tuesday," she said. "Frankly, given my losses ... I'm speechless."
Berriz said they tried to contact every displaced resident, but with relocating certain residents and others leaving to stay with family members, it's been difficult to connect with each person.
"We've been working our butts off to make sure we can provide a solution," he said. "We want to go above and beyond to help."
McKinley Inc. established the Park Place Flood Recovery Fund to accept donations for the families affected by the flooding.
Johnson said she has been staying with family members since the flooding and will look for other housing options soon.