Posted on
Sat, Jan 21, 2012 : 5:57 a.m.
Downtown employees say better AATA services would encourage them to commute by bus more often
By Ryan J. Stanton
More than 70 percent of downtown Ann Arbor employers say having transportation options is important to attracting customers and a talented workforce, according to a new study.
The study, released by the getDowntown Program, was jointly funded by the Ann Arbor Transportation Authority and the Ann Arbor Downtown Development Authority. It surveyed more than 250 employers and 275 employees located in the downtown.
Compared to a 2009 survey, more downtown employees are using public transit and biking to get to work. Public transit use increased 3 percent while biking increased 4 percent.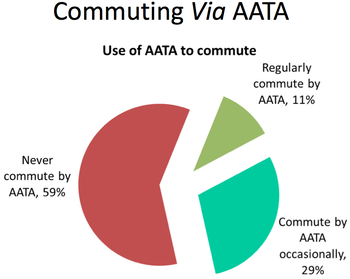 When asked what would encourage them to use transit more often, downtown employees cited the need for more express and direct service as well as service later into the evening.
"It's encouraging to see more people looking to public transit for their daily commute," AATA CEO Michael Ford said in a statement. "We hope public transportation use continues to increase among Washtenaw County residents in the coming months and years as we work to improve the customer experience by making public transit more efficient, reliable and convenient."
About 40 percent of those surveyed indicated they at least occasionally commuted by bus in the past year, while 22 percent indicated they bike to work at least occasionally.
Further breaking down those numbers, 78 percent said they never commute by bike, 6 percent said they do regularly, and 16 percent said they do occasionally.
As for bus commuting, 59 percent said they never commute by AATA, 11 percent said they regularly commute by AATA and 29 percent said they do occasionally.
Data from the getDowntown Commuter Challenge shows the typical one-way commuting distance by bus for downtown employees is 2.5 miles.
According to the new survey, downtown employees who live four miles or less from work are much more likely to bike, walk or take a bus instead of driving alone to work.
At 2 miles to less than 4 miles from work, only 32 percent of employees surveyed said they drive alone, while 33 percent of employees take the bus.
A top reason many employees say they're using the bus or shifting away from driving is the go!pass, an unlimited-use transit pass downtown employers can purchase for employees.
The DDA provides a grant to getDowntown that allows the program to offer the go!pass to employers at a reduced rate.
In the survey, 63 percent of employees cited the go!pass as an important benefit to their job. Go!pass ridership for 2010 was 15 percent higher than in 2009.
Nearly a third of employees surveyed said express bus service, more direct bus service and bus service closer to home would make it more realistic to commute using AATA, while about 23 percent cited service later in the evening, and 22 percent cited more frequent service on weekends. About a third said none of the listed choices would convince them to take a bus.
GetDowntown, a program of the AATA, is operated in partnership with the city of Ann Arbor and the DDA.
The AATA is seeking approval from the city of Ann Arbor and Washtenaw County to morph into a countywide transit authority this year to expand services.
Related story: Q&A: Young downtown workers, businesses drive increased interest in getDowntown bus passes
Ryan J. Stanton covers government and politics for AnnArbor.com. Reach him at ryanstanton@annarbor.com or 734-623-2529. You also can follow him on Twitter or subscribe to AnnArbor.com's email newsletters.