Posted on
Fri, Mar 9, 2012 : 7:12 a.m.
Drivers crash as snowfall turns Interstate 94 into 'sheet of ice' in Ann Arbor area
By Cindy Heflin
8:20 a.m. update: Many crashes had been cleared from the freeway, a dispatcher said. police were still dealing with a couple of crashes on I-94 between Rawsonville Road and Michigan Avenue and a crash at U.S. 23 and Washtenaw Avenue.
A light snowfall turned Interstate 94 in the Ann Arbor area into a "sheet of ice in both directions," Friday morning, a dispatcher with the Washtenaw county Sheriff's Department said.
Crashes littered the freeway between Ann Arbor and Ypsilanti she said. Dispatchers were dealing with too many to count, she said at 7 a.m.
The crashes included a jackknifed semi tractor-trailer rig in the ditch at I-94 and Huron Street in Ypsilanti. Media reports indicated there were numerous crashes in the area of I-94 and Jackson Road and I-94 and U.S. 23 in Ann Arbor.
A Google traffic map showed significant backups on the freeway between Ann Arbor and Ypsilanti.
M-14 so far had been mostly problem free, "knock on wood," the dispatcher said.
No further information was immediately available.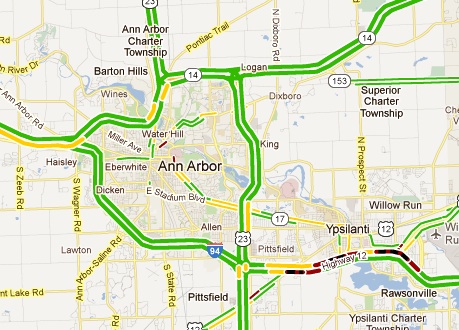 Contact Cindy Heflin at cindyheflin@annarbor.com or 734-623-2572 or follow her on Twitter.