Posted on
Mon, Sep 24, 2012 : 5:55 a.m.
Eastern Michigan University eyes Buckeye territory for prospective students
By Kellie Woodhouse
Eastern Michigan University is working to attract more students from Ohio— and it's succeeding.
Nearly 12 percent of EMU's incoming freshmen are from Ohio. Since 2010, the school has more than doubled the number of first-time freshmen enrolling from Ohio.
There were 309 first-time college students enrolling from Ohio this fall, up from 205 in 2011 and 142 in 2010. There are a total of 2,595 first-time freshmen enrolled at the university this fall.
"We don't want to have all of our eggs in one state," said Kevin Kucera, EMU's enrollment manager.
Overall, 861 students in EMU's undergraduate body are from Ohio, compared to 739 in 2011 and 670 in 2010. This year there are 18,914 undergraduates enrolled at EMU.
EMU is commonly characterized as a regional university and the vast majority of its students are from in-state. However, a reciprocal agreement with Ohio allows students from that state to attend EMU at the in-state rate for tuition and fees —which are $9,026 this year, an increase of 3.95 percent from last year.
Yet many Ohio high schoolers aren't aware of EMU's reciprocity rate, so Kucera has been working to develop relationships with Ohio high school counselors to put EMU on their radar.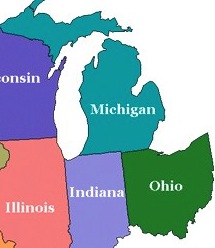 The school's TruEMU campaign —a marketing initiative that includes billboards and other media placements— also exists in Ohio.
Most of the EMU students from Ohio come from metropolitan Cleveland and northwest Ohio, but the school is looking to attract students from the south part of the state and to increase the number of transfer students and distance-learners enrolling from Ohio.
"We think we can get a continued increase there," said Kucera, who cited word-of-mouth and marketing campaigns as tools in EMU's favor.
The majority of students enrolled from Ohio high schools live on EMU's campus, helping to bring the residential housing rate to 3,315 this year, an increase of 338 students from last year.
Kellie Woodhouse covers higher education for AnnArbor.com. Reach her at kelliewoodhouse@annarbor.com or 734-623-4602 and follow her on twitter.