Posted on
Tue, Oct 18, 2011 : 6:39 p.m.
Auditor: Eastern Michigan University too reliant on tuition revenue
By Kellie Woodhouse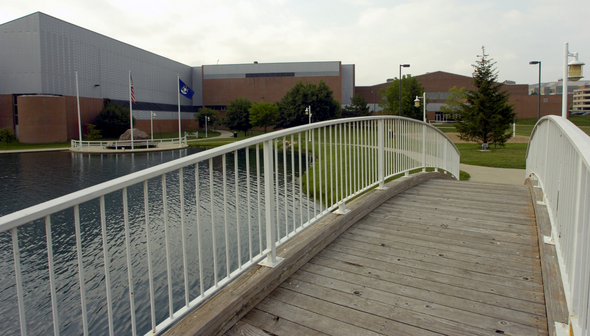 AnnArbor.com file photo
Eastern Michigan University relies too heavily on tuition and fees, according to Vicki VanDenBerg, the university's contracted audit manager.
In fiscal 2011, the Ypsilanti-based university received 75 percent of its $221.4 million operating revenue from tuition and fees.
That's more than $166 million.
And it's 15 percent more than the average ratio at Mid-American Conference schools in 2010, which was 60 percent. "You can see the heavy, heavy reliance on tuition and fees," said VanDenBerg, a principal of the audit and accounting firm Plante Moran.
VanDenBerg presented the results of a fiscal 2011 audit to the EMU Board of Regents at a finance committee meeting on Tuesday afternoon.
According to VanDenBerg, credit rating agencies prefer "less reliance on any one type of revenue"— such as tuition.
"They would encourage all universities to really start thinking about not having any one revenue source become more than 50 percent of your revenue," VanDenBerg said.
EMU's current Moody's credit rating is A1, which is characterized by the agency as an upper-medium-grade rating. The average Moody's credit rating for a MAC university is AA1, which is three levels above EMU's rating.
VanDenBerg also told the regents that EMU receives less state appropriations than most MAC universities.
EMU received $76 million in state appropriations in 2011 and $78 million in 2010. However the average amount of appropriations for MAC universities in 2010 was $98 million— a full $20 million higher than EMU's 2010 level.
"Those universities had a much higher state appropriations revenue than you did," VanDenBerg said. "You get less and less of that each year… especially in 2012 you'll see a significant decrease in that area."
The regents also discussed EMU's $4.6 million budget shortfall.
Kellie Woodhouse covers higher education for AnnArbor.com. Reach her at kelliewoodhouse@annarbor.com or 734-623-4602 and follow her on twitter.