Posted on
Tue, Feb 21, 2012 : 5:51 p.m.
Eastern Michigan University trying to rein in $3M budget shortfall
By Kellie Woodhouse
Eastern Michigan University's budget shortfall has shrunk to $3 million, giving the school hope that it can complete the academic year in the black.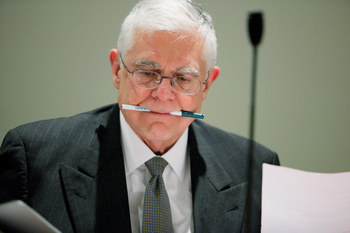 Chris Asadian | AnnArbor.com
The school experienced a $11.4 million dip in state funding this year. Coupled with overestimating 2011-2012 enrollment and poorly performing investments, EMU officials warned regents in October that the
shortfall could balloon to $6 million
in June.
Their fears were quickly validated. By November the shortfall had skyrocketed to $4.6 million, growing by nearly $3 million in one month.
Since then, however, EMU has gradually adjusted operations and limited spending in an effort to avoid red ink at the end of the year.
"We are in significantly better position than we were," the school's Chief Financial Officer John Lumm told the Board of Regents Tuesday.
Lumm said EMU could rein in costs and stay within the $283.1 million budget it set for 2011-2012. How? By cutting back on utility and supply costs, not filling several open positions and deferring planned expenditures, he offered.
But finding fat to trim might prove difficult. EMU this year already saved $4.2 million in salaries by cutting 81 positions.
Enrollment declined 0.7 percent this year instead of increasing like EMU predicted, leading to a multimillion-dollar gap.
Additionally, EMU investments performed poorly at the start of the year. In September the school had lost $1.9 million in investment revenue. Earnings have since rebounded and the school is now $1.8 million in the black.
Money from research contracts and grants has decreased by $2.3 million from this time last year. The school has garnered $6.1 in research money and Lumm says the dip in funding is largely due to federal cutbacks.
Regent Mike Morris said the school's investment troubles and dwindling research funding needs to change.
"Just because it's tough to get (research awards) doesn't necessarily mean we can't pursue them," he said. "We need to do more. We need to pick up the pace and we need to help people get these grant applications well-written and submitted."
The regents were informed of one silver lining. Fundraising is on pace to reach $9.5 million by the end of the year, nearly doubling the amount of money raised in 2010-2011.
Kellie Woodhouse covers higher education for AnnArbor.com. Reach her at kelliewoodhouse@annarbor.com or 734-623-4602 and follow her on twitter.