Posted on
Sun, Apr 7, 2013 : 12:30 p.m.
Ann Arbor high school students raise money for genetic research: autism, breast cancer and diabetes
By Danielle Arndt
Students from Ann Arbor Public Schools' four high schools are working to raise awareness and a collective $28,000 to support genetic research, with the help of Ann Arbor nonprofit miRcore.
The Huron GIDAS club, which stands for "Genes In Diseases And Symptoms," hopes to raise $10,000 for autism spectrum disorder research. Skyline and Huron are partnering together, while Pioneer's GIDAS club is fundraising for breast cancer with a $9,000 goal. Community also is trying to raise $9,000 but for type 1 diabetes, commonly known as juvenile diabetes.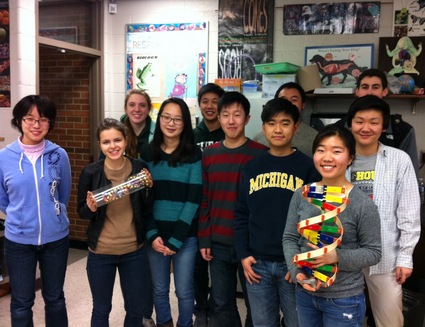 Photo courtesy of Gabby Steinl
The fundraisers will end April 15.
miRcore, the sponsor of the high school GIDAS clubs, is a biomedical research organization with a vision of global, multilateral collaboration for treating individuals based on their unique genetic profiles and environmental circumstances, according to its website.
"Our goal is to democratize medical research in an emerging era of personalized medicine," said miRcore President Inhan Lee.
From Lee's perspective, everyone needs to be educated about the direction that today's medicine is headed.
"I saw that high school students may be a medium for connecting the general public to the way scientists are moving — so that the public is not left behind," she said.
Lee is an aunt to Huron High School senior Jungsoo Chang, and together the two launched GIDAS at Huron in 2011. The club was expanded this fall to have chapters at Pioneer, Community, Skyline and the University of Michigan.
Chang and a number of other students had been volunteering at miRcore on Saturdays and working with gene sequences to identify biomarkers for various diseases that miRcore is researching. Generally, a biomarker is a chemical or molecular substance that if present or absent from a person's DNA it is indicative of the individual having a certain disease, said Gabby Steinl, a Huron GIDAS club member.
Chang said the students work with publicly available gene sequence data and run the biomarkers through computer programs that predict whether someone could have a disease and whether he or she might react well to a certain type of drug, for example.
miRcore's mission is to generate testable hypotheses on disease etiology, biomarkers, treatment decisions and prevention based on RNA profiles, according to its website.
"Some of it gets over our heads sometimes," Steinl said of the lab work at miRcore. "It can be a little challenging … but I've learned so much and it's been a great opportunity."
When the student volunteers grew increasingly passionate about the research and intrigued by the concept of personalized medicine, Lee was surprised.
"I was teaching them about what new research was coming out and in the process, I learned they were enjoying it," she said with a chuckle. "I thought it would be boring, but they kept coming in!"
So Lee kept adding more educational elements and curriculum to her Saturday research sessions. And because most of the volunteers were from Huron, Lee suggested the students start the club at their school and focus on one disease per year, with an added goal of trying to raise awareness of personalized medicine and the research that exists for that disease among the entire student body.
The disease the Huron GIDAS club chose for its first year was Alzheimer's.
The students "really got into it," Lee said, going "above and beyond. … They were excited and it got me excited."
The group made a video, passed out Alzheimer's awareness ribbons and put up posters about the disease in the hallways at Huron. The students also brought in guest speakers to host discussions for the club and assemblies for Huron science classes, Chang said. Soon the idea to raise money to support genetic research for Alzheimer's was born.
"At miRcore, they believe that anyone should be able to initiate research that matters to them," Steinl said.
The Huron GIDAS club raised about $6,000 last year and the money went toward miRcore's Alzheimer's disease research. This year, Huron chose autism because it's a disease that high-schoolers can relate to more, Steinl said.
"We see students every day at our school who have autism. ... (Autism) is often described as a puzzle that scientists are trying to solve, so our campaign is called 'Finding the Missing Piece,'" she said.
Each school's GIDAS club created an informational video about their particular disease and found two existing research proposals to raise money for.
Each fundraiser is being conducted as a competition. Donors can select one of the two research projects to support with their donations and in the end, 100 percent of the money generated in each school's fundraiser will be given to the project that receives the most votes of the two proposals.
The six research project applications for the three diseases are from Cold Spring Harbor Laboratory, Harvard University, Johns Hopkins University, Kyungpook National University (Korea), University of Michigan and Western University. In each disease category, only one of the projects — the one with the most votes — will receive the funding.
Danielle Arndt covers K-12 education for AnnArbor.com. Follow her on Twitter @DanielleArndt or email her at daniellearndt@annarbor.com.