Posted on
Mon, Jan 28, 2013 : 5:57 a.m.
Ann Arbor Huron senior named finalist in prestigious national science competition
By Danielle Arndt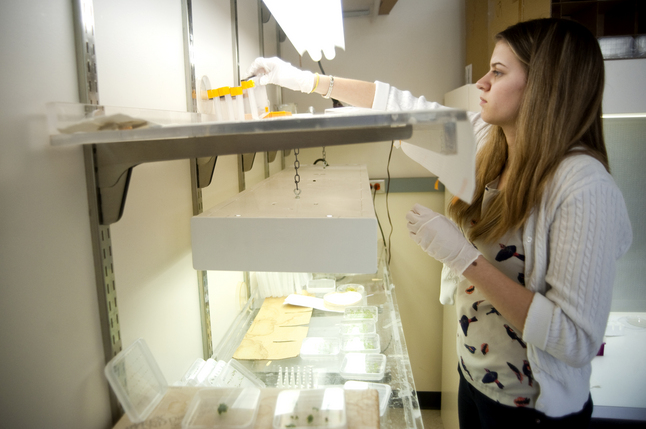 Joseph Tobianski | AnnArbor.com
Ann Arbor
Huron High School
student
Lilia Popova
is making waves in the science community, winning accolades for plant research that her teachers say rivals the level of most college juniors and seniors.
Popova, a 17-year-old senior, was named a finalist in the oldest and most prestigious pre-college science competition in the country, The Intel Science Talent Search.
More than 1,700 high schoolers from across the U.S. submitted original scientific research projects to be considered. Popova and the remaining 39 finalists will travel to Washington D.C. in March for a rigorous, weeklong judging process, during which they will vie for $630,000 in awards. The top winner will receive $100,000.
Ann Arbor has had a few semi-finalists in the competition through the years, but Popova is the town's first finalist. She also is the only 2013 finalist from Michigan, as well as the only finalist competing in the field of plant science.
"I'm really excited," Popova said. "It's honoring and humbling. I couldn't believe it."
Popova's project was designed to study how weak and altered magnetic fields affect plant growth and lead to changes in gene expression and protein interactions. It's research that has applications in biotechnology, biofuel production, sustainable agriculture and future studies on the impact of electromagnetic radiation on other organisms, such as humans and animals, she said.
It also is research that is worthy of publication, said University of Michigan professor John Schiefelbein. By the time Popova graduates from high school and heads off to college, she could be a published scientific researcher.
Schiefelbein said Popova's understanding of plant molecular biology, cell differentiation and genetics is impressive and "really exceptional."
"In my 23 years as a faculty member, I've had dozens of undergraduates conduct research under me," Schiefelbein said. "But Lilia is the first high school student I've had. It's rare. … You don't learn this kind of material in a high school setting."
Popova approached Schiefelbein in July 2012 about working in his lab. He was happy to welcome Popova and was impressed by her desire to take her research to the next level.
Popova's research was already more than a year under way and had won numerous awards at science fairs.
She took first place in the botany category at the Southeast Michigan Science Fair, first place at the Michigan State Science Fair and third place, out of 60 plant science entries, in the Intel International Science and Engineering Fair in Pittsburgh in May 2012.
In addition to filing an online application, Popova had to submit a 20-page research report and several smaller essays to enter the Intel Science Talent Search.
Popova said she's been interested in plant science for a number of years, but it was about two years ago when she witnessed the aurora borealis, or the northern lights, that she got the idea for this project.
"After a solar storm, they were visible in Michigan," Popova said. "To see them, it really got me thinking on this incoming solar radiation that bombards the Earth. … Looking up at this magnificent display in the sky that is so grand and so great, I started wondering about the impact of this solar radiation on plants and animals."
She said the Earth naturally has its own magnetic fields, and solar storms can influence the level of magnetic activity.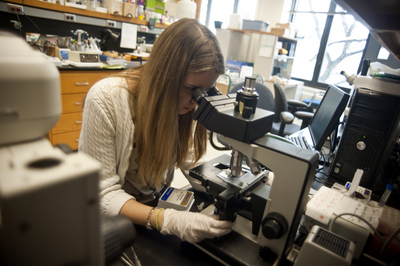 Joseph Tobianski | AnnArbor.com
"As humans, we don't consciously respond to magnetic fields. So a lot is not known about how magnetic activity affects … our growth and development," Popova said.
What she has found in her research so far is that altering the magnetic field around a plant alters the plant's cycling of nutrients, which in turn can have lasting genetic implications. She also found weak magnetic fields promote growth and strong magnetic fields inhibit growth.
Popova credited Schiefelbein and David Caine and Andrew Collins, her AP Physics and Chemistry teachers at Huron, with directing her and supporting her along this journey. But both Schiefelbein and Caine said this project was all Popova.
"She's very self motivated," Schiefelbein said. "She's brought journals, papers and research models to me and asked what I've thought. She's very driven and interested in science."
Among her high-school peers and in the classroom, Popova is a nice, quiet kid who does her work and is a bit shy, Caine said.
"The most embarrassed I've seen her is when we told the whole class that she was a semifinalist (in the Intel Science Talent Search)," he said. "She would have been perfectly happy if nobody had known. She's really doing this for her own knowledge and enjoyment of the project."
Caine echoed Schiefelbein's sentiments that it's rare to have a high school student so dedicated to science.
"She makes connections that you don't expect. So she has the curiosity and that's the most important bit," he said, "and then that uncanny ability to just keep going with it … which is really cool to see."
In addition to science, Popova is involved in choir and community service. She played field hockey for three years at Huron and has been a member of the school's a capella and chamber choirs. She is president of Huron's Key Club and serves as a Girls on the Run coach for fourth- and fifth-graders in Ann Arbor.
Popova plans to enroll at Stanford University, where she intends to study algae and environmental science to pursue a career in medicine and anthropology.
Danielle Arndt covers K-12 education for AnnArbor.com. Follow her on Twitter @DanielleArndt or email her at daniellearndt@annarbor.com.