Posted on
Sun, Mar 13, 2011 : 6:05 p.m.
Ann Arbor Learning Community turns trash into artwork as part of event celebrating diversity
By Danny Shaw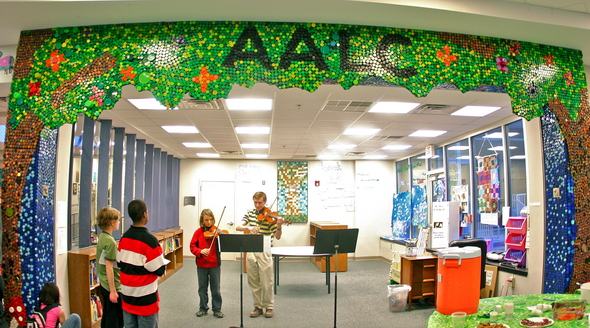 Danny Shaw | AnnArbor.com intern
Ann Arbor Learning Community recently welcomed more than 11,000 additions to its school — all of them plastic bottle caps and lids that have been transformed into a colorful mosaic.
When entering the school's library, visitors, students and staff pass under a bright archway of trees and flowers, all made from discarded plastic.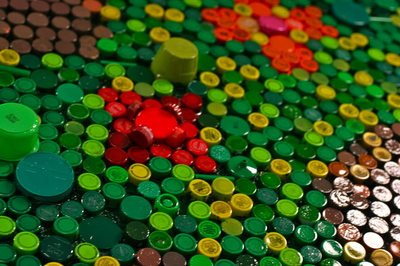 Danny Shaw | AnnArbor.com intern
Students and staff presented the mural at Thursday's Community Mosaic Night, an annual event that celebrates worldwide differences. Each year, a new piece of art is presented that was created through the effort of the entire school. Every student glued at least one plastic cap or lid onto the mosaic.
"Every year we want to create a keepsake, something the community has been a part of creating," said Ticheal Jones, AALC dean. "It was really amazing seeing everyone piece it together."
Creation of the mosaic was coordinated by art teacher Marissa Kowalczuk and Niki Hogan-Lefler, a parent and local artist. It took two and a half weeks to complete and 11,211 caps and lids.
Hogan-Lefler said the project was something she wanted to help create ever since her son, Aidan, started kindergarten at the school. He's now in second grade.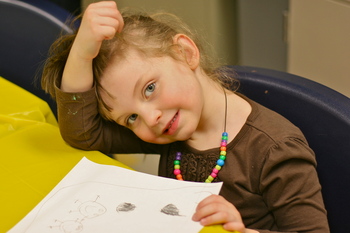 Danny Shaw | AnnArbor.com intern
"The kids were so invested and so inspired to do it once they started to hear about it more," Hogan-Lefler said about the mosaic. "It's also great because it's the first thing in our school to have our name on it."
The mural was inspired by Tim Burke, resident artist at the Heidelberg Project, an outdoor art display in the heart of an urban community on Detroit's East Side.
Along with the mosaic unveiling, students and their families navigated the halls to learn about different cultures, lifestyles, countries and social groups. Each of 20 transformed classrooms featured lists of stereotypes and facts about the student-picked groups.
Fourth- and fifth-grade teacher Cynthia Andrews' room served as a portal to the world of video games, where visitors dove into gamer culture by competing for the high-score in Pac-Man. Across the hall, students taught visitors about the reality of homeless children in America though statistics written on cardboard signs.
Some students took a personal family approach with the "Military Families" and "Being an Only Child" exhibits by showcasing common misconceptions and stereotypes of their families. Other rooms ventured across the globe to Romania, Mexico and China, while letting visitors see and taste their cultures.
Jones said Community Mosaic Night is a mainstay of AALC and will bring something unique and meaningful each year.
"It helps the students become more globally aware and how the choices they make as they get older impact the world," Jones said. "The impact really does carry on out, not just here, but into the greater community."
To view more pictures of the bottle cap mosaic, check out the photo gallery below.