Posted on
Sat, Jan 7, 2012 : 5:59 a.m.
Ann Arbor school board to weigh six-year terms in light of election change
By Danielle Arndt
After snubbing the state in a symbolic gesture, the Ann Arbor school board will weigh extending trustee terms from four to six years for future boards.
President Deb Mexicotte said the board must make a decision on trustee terms prior to Aug. 14, the filing deadline for candidates. She said she would like to see the board address this topic at its organizational meeting Jan. 18.
The discussion is being considered in light of the Legislature passing a bill that sets school board elections for public institutions as the first Tuesday of November in even-numbered years. Ann Arbor has been holding school elections every year.
The law — which was signed by the governor Nov. 28, effective Jan. 1 — will cause significant strife for Ann Arbor, Mexicotte said, primarily because of the large, all-at-once turnover it will create.
The Board of Education changed its annual election date from May to November prior to the 2010 election. Trustee Christine Stead said the switch resulted in a yearly savings of approximately $90,000 for the district.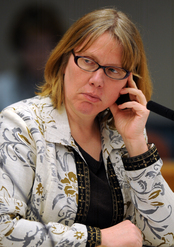 Mexicotte said an every-other-year cycle may necessitate the move to six-year terms.
"If we keep it four years, on an every-other-year basis, nearly half the board could potentially turn over," Mexicotte said. "From a stability standpoint, if a board is putting all these policies in place and people are running along smoothly, and then an election happens and here comes another board — it's just not a good way for the district to be managed."
Currently, the board operates on a two-two-two-one rotation, meaning in a four-year period, two members are up for re-election every year until the fourth year when only one member is up for re-election.
Mexicotte said switching to six-year terms would allow the board to retain its two-two-two-one rotation. However, it would also cause current board members' terms to run long.
But the new election law already will impact current board members' terms.
Simon Lightfoot and Andy Thomas, who were re-elected in November, will be up in 2016, rather than 2015. Glenn Nelson and Irene Patalan also were scheduled for re-election in an odd-numbered year. Their seats now will be available in 2014, not 2013.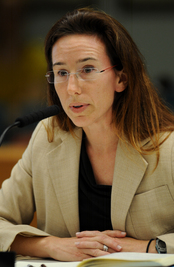 "I think there is a lot of merit in not having a lot of turnover at one time," Stead said. "With four or five new people on a seven-member board, the learning curve to be effective is very high. When really, once they're elected, they're expected to be making educated decisions."
Stead said one downside to a six-year term is, well — "it's six years."
"The (United States) president doesn't serve that long. The governor doesn't serve that long. That's a lot to ask of people," Stead said.
She added citizens who have never served on a board before may be discouraged to run due to the length of time they would be required to commit and Ann Arbor may miss out on some very eligible candidates.
Also, current board members who have served for six to eight years already may be willing to commit to another four, but another six years might be too long, Stead said.
"Ultimately, we still have to discuss it (whether to switch to a six-year term) and to think about what's really going to be best for the district," Stead said.
At its December meeting, the Ann Arbor school board voted down a resolution to change its election date to the first Tuesday of November in even-numbered years, as mandated by the new Michigan law.
Not passing the resolution was more of a symbolic gesture and does not carry any weight, Mexicotte explained.
Don Wotruba, deputy director of the Michigan Association of School Boards, said the law does not require districts to pass a resolution, but many districts did so due to past practices.
"The important thing to note is that we, of course, are sworn to follow state law, whether we passed the resolution or not," Mexicotte said. "This was just a little way for us to say 'Enough already. We've had it with you guys (the state).'"
Mexicotte, who led the vote-no momentum, said she did so "on principle."
"We are being bombarded by education changes, endless unfunded mandates from the state. That evening, they had just removed the cap on charter schools. They have continued this assault on education that has not improved the educational outcomes for children … but has led to socioeconomic and racial segregation," Mexicotte said.
"(Not passing the resolution) was a way for us to speak to how embattled and how angry we are about this endless assault — without ever saying we aren't going to follow state law."
School boards may still call special elections for millage or bond proposals in February, May or August.
Staff reporter Danielle Arndt covers K-12 education for AnnArbor.com. Follow her on Twitter @DanielleArndt or email her at daniellearndt@annarbor.com.