Posted on
Fri, Jun 28, 2013 : 5:57 a.m.
DOMA aftermath: Partner benefits to be restored for Ann Arbor schools employees through July
By Danielle Arndt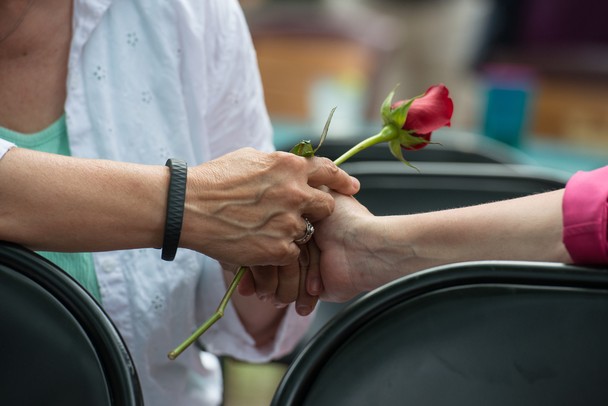 Courtney Sacco I AnnArbor.com
Teachers in the Ann Arbor Public Schools can maintain insurance benefits for their same-sex and domestic partners at least through the month of July, thanks to the U.S. Supreme Court rulings on the Defense of Marriage Act Wednesday.
Ann Arbor teachers were set to lose health care coverage for their domestic partners on June 30, due to the Ann Arbor Education Association contract being opened in March for teachers to agree to a 3 percent wage concession and for language changes to protect the union against Michigan's new Right to Work Law.
Employees had been anxiously awaiting a ruling from a Michigan federal court judge on a case filed by the American Civil Liberties Union to strike down a law Gov. Rick Snyder signed in December 2011. The law is called the Public Employee Domestic Partner Benefit Restriction Act and it prohibits any institution funded with state tax dollars from extending benefits to non-related adults living under the same roof as the insurance policyholder.
Proponents of the law say extending health care benefits to non-married, live-in partners costs the state too much money.
Two Ann Arbor Public Schools couples are plaintiffs in the lawsuit: Ann Arbor Open teacher Peter Ways and his partner Joe Breakey, as well as Slauson Middle School teacher Theresa Bassett and her partner Carol Kennedy.
The district has worked in cooperation with the ACLU on its lawsuit from the beginning, school officials have said, adding the district's philosophy is the Defense of Marriage Act and Snyder's ban on domestic partner benefits is not right.
AAPS Deputy Superintendent of Human Resources and Legal Services David Comsa said there still are a number of unknowns about what will happen with the ACLU's Bassett vs. Snyder case, the state's law banning domestic partner benefits and the constitutional amendment that passed in Michigan in 2004 outlawing same-sex marriage. He said all of these pieces remain up in the air in the wake of the U.S. Supreme Court's ruling on DOMA.
However, Comsa presented a sliver of good news to the Ann Arbor school community Wednesday at the regular Board of Education meeting.
He said in the short term, domestic partner benefits will be restored for employees in AAPS through July 31. He said the district, the AAEA and the plaintiffs in the suit were able to work together Wednesday to get a Washtenaw County Circuit Court judge to issue a temporary restraining order on the removal of the benefits as the law applies to the Ann Arbor teachers union contract.
Comsa said the extra month will give courts time to more thoroughly research the U.S. Supreme Court rulings and briefs and make a determination on whether the Ann Arbor teachers' benefits can be permanently restored.
Comsa said district officials made phone calls to affected teachers as well as sent letters and emails informing them the benefits would be available for their domestic partners at least through July. The district also informed its insurance carriers that these benefits are to be reinstated for employees, Comsa said.
Vice President Christine Stead expressed her jubilation with the U.S. Supreme Court at Wednesday's meeting. She shared that it hits close to home for her, as her sister is positively affected by the rulings.
"I want to applaud the Supreme Court for making a really good decision today. I think this (DOMA) struck most of us as an unconstitutional law … and I am really pleased," Stead said.
"This is very good news and should be celebrated. … I think we as a district and as a board — our philosophy has been not to discriminate against any group of people for any reason. I look forward to when we can restore (domestic partner benefits) on a permanent basis as soon as legally allowed."
Danielle Arndt covers K-12 education for AnnArbor.com. Follow her on Twitter @DanielleArndt or email her at daniellearndt@annarbor.com.