Posted on
Fri, Jun 28, 2013 : 12:16 p.m.
Federal judge blocks Michigan law banning domestic partner benefits
By Danielle Arndt
Previous coverage:
Editor's note: The headline of this story has been corrected to more accurately reflect the federal court ruling. Also the story has been changed to reflect that the ruling blocks further implementation of the law.
Public employees in the state of Michigan can no longer be denied health insurance coverage for their same-sex domestic partners.
A federal judge issued a ruling Friday that blocks a law signed by Gov. Rick Snyder in December 2011.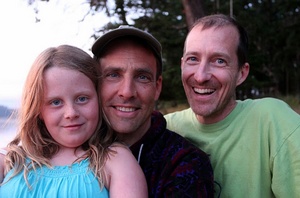 Courtesy photo
The
Public Employee Domestic Partner Benefit Restriction Act
previously banned all institutions funded by public tax dollars from extending benefits to non-related adults living under the same roof as the insurance policyholder.
Proponents of the law, including the governor, argued extending health care benefits to non-married, live-in partners costs the state too much money.
The American Civil Liberties Union challenged the law on behalf of five gay and lesbian public employees in the state in January of 2012. Two of the couples named as plaintiffs in the suit are Ann Arbor Public Schools employees, Ann Arbor Open teacher Peter Ways and his partner Joe Breakey, as well as Slauson Middle School teacher Theresa Bassett and her partner Carol Kennedy.
U.S. District Court Judge David Lawson found that the law "discriminated by forcing cities, counties, school districts and community colleges to cancel family benefits for gay and lesbian employees in committed relationships while heterosexual employees had the ability to marry their partners to maintain health insurance," a press release issued by the ACLU stated.
Lawson issued a preliminary injunction in the case Bassett vs. Snyder, not a final decision. He said the plaintiffs' claims that the Michigan law is unconstitutional are "plausible." Lawson's ruling does not end the lawsuit but it prevents the law from being enforced in the meantime, reports say.
"We're breathing a sigh of relief right now," Ways said in the release. "This law was clearly meant to target families like ours and to make us feel as though we didn't count."
Same-sex couples cannot marry in Michigan, although it is unclear how the state's constitutional amendment, passed in 2004, prohibiting gays and lesbians from marrying will hold up, given the U.S. Supreme Court ruling earlier this week on the Defense of Marriage Act. According to the Associated Press, another judge is considering whether to strike down Michigan's nearly 9-year-old ban on same-sex marriage. It is not known when U.S. District Court Judge Bernard Friedman will make a decision, the AP reported.
Ways, Bassett and other Ann Arbor schools teachers were expected to lose their partner benefits at the end of the month. The Supreme Court ruling bought some more time and the district was able to arrange for the partner benefits to be reinstated through July 31. However, with the domestic partner benefit ban being blocked, the district hopes to offer these benefits to employees again permanently.
District spokeswoman Liz Margolis said the district's legal counsel was sent the judge's ruling and is reviewing it.
"We are pleased (with the ruling) and the fact that at least for the next month we'll be able to offer these benefits for our employees," she said, adding the unconstitutional ruling bodes well for the district being able to permanently restore the domestic partner benefits. "We'll also be waiting to see if the governor does anything with the ruling."
The ACLU argued the Michigan Public Employee Domestic Partner Benefit Restriction Act was "particularly irrational" because it allowed municipalities to provide health insurance coverage for other family members, such as cousins, aunts and nephews, but excluded same-sex domestic partners.
"This law served no purpose to the state of Michigan other than to needlessly discriminate against hard-working families," ACLU Executive Director Kary Moss, who is a graduate of the Ann Arbor Public Schools, said in a statement. "It's hard to encourage talented people and their families to work for public employers in Michigan when they're denied the ability to take care of each other."
Danielle Arndt covers K-12 education for AnnArbor.com. Follow her on Twitter @DanielleArndt or email her at daniellearndt@annarbor.com.