Posted on
Tue, Apr 2, 2013 : 8 p.m.
Huron High student named finalist for full-ride scholarship from Bill and Melinda Gates Foundation
By Danielle Arndt
A Huron High School senior was named a finalist for a good-through-graduation college scholarship funded by the Bill and Melinda Gates Foundation.
Every year, the Gates Millennium Scholars Program presents 1,000 outstanding minority students nationwide with a full-ride scholarship that continues until they obtain their college degrees or decide to drop out or cease their studies.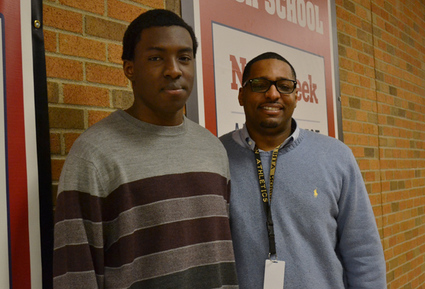 From AAPS News
The goal of the program is to reduce the financial barriers for minority students who show great academic promise and leadership capabilities.
Ann Arbor's Abraham "Ayo" Fasina was nominated for the scholarship by his Huron High School Rising Scholars adviser, Brandon Jackson, and counselor, Denise Eaddy-Richardson.
Fasina has been part of the Rising Scholars program since he was a freshman and is a true success story of the program, Jackson said, adding Fasina had to complete and submit about eight essays after his nomination.
The Gates Millennium Scholars Program will announce its 1,000 award recipients in mid-April, according to its website.
Fasina's parents immigrated to the United States from Nigeria. Jackson said many probably would consider Fasina just your average student, but Jackson said the 17-year-old works "incredibly hard" and is driven to continuously improve.
"Math and science … were not coming to him, but he has been spending a lot of time working at it and working at it," Jackson said. "But as hard as he works, he is still very humble about the things that come to him, and when he gets good grades, he thinks he needs to work harder still and could do better."
Ann Arbor's Rising Scholars program strives to provide support for students who may not believe college is a realistic option for them by creating an environment that encourages them to take challenging courses, improve their grades and apply and get accepted to quality institutions and universities.
"Our goal is making sure our students, who are non-traditional, underserved and underrepresented, are applying for those schools and see themselves in a position of attainment," Jackson said.
Fasina has been accepted to a few colleges already, Jackson said. But the senior's goal right now is to get in to the University of Michigan, where Fasina would like to study computer science and computer engineering.
The Gates Millennium Program provides a full-ride scholarship to its winners for whichever college or university they would like to attend. The program continues to pay for the winners' schooling as long and as far as they would like to take it.
The award recipients could go on to attend a graduate school for a degree in computer science, education, engineering, library science, mathematics, public health or science on the program's dime.
The Gates Millennium Program is more than a scholarship, however. According to its website, it offers award recipients "academic empowerment" services for both academic and personal development, as well as access to an online resource center that provides internship, fellowship and scholarship opportunities.
The Gates Millennium Scholars Program was established in 1999 and was initially funded by a $1 billion grant from the Bill and Melinda Gates Foundation, according to its website. The United Negro College Fund administers the scholarships. Since the program's inception, it has distributed more than $614 million in scholarships.
Students must be high school seniors or graduate with a minimum grade point average of a 3.3 and be of African American, American Indian, Alaskan, Asian or Hispanic descent to be eligible for one of the 1,000 scholarships.
According to the program's website, the average first-year undergraduate student retention rate is 96 percent among Gates scholars and the average second-year retention rate is 97 percent. The five-year graduation rate for these students is 78.9 percent and the six-year graduation rate is more than 90 percent, the website says.
Danielle Arndt covers K-12 education for AnnArbor.com. Follow her on Twitter @DanielleArndt or email her at daniellearndt@annarbor.com.