Posted on
Thu, Aug 1, 2013 : midnight
New Ann Arbor superintendent 'thrilled' to accept job offer from school board
By Danielle Arndt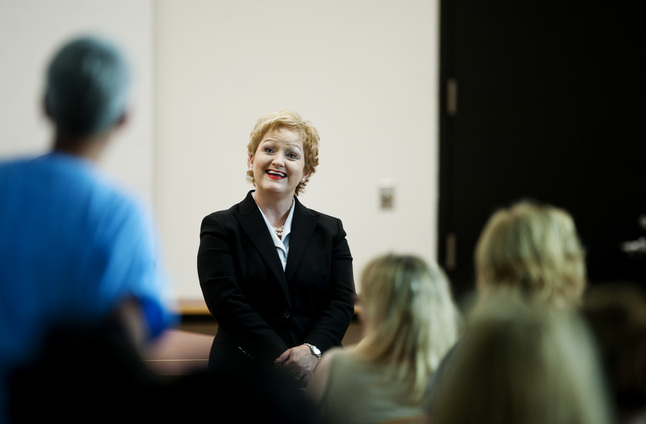 Related coverage:
Jeanice Kerr Swift has accepted the Ann Arbor school board's offer to become the next superintendent of the Ann Arbor Public Schools.
Board Treasurer Glenn Nelson confirmed shortly before midnight in a phone call to reporters that Swift said "yes" to entering into formal contract negotiations with the district. He said the board anticipates she also will be releasing a statement to the community sometime Thursday morning.
The offer is contingent upon reaching a satisfactory contract with her. Board President Deb Mexicotte was authorized to negotiate with Swift on behalf of the board.
The Board of Education voted 4-3 to offer the position to Swift in a special meeting Wednesday to discuss next steps in the district's superintendent search after its first choice for the job, Brian Osborne of New Jersey, turned down the superintendency over the weekend.
The board was divided on whether to conduct a new superintendent search in early 2014 or to offer the job to Swift, the assistant superintendent of instruction, curriculum and student services for Colorado Springs School District 11.
Swift was one of two finalists, along with Osborne, after the candidate pool was narrowed down from six semifinalists in early July. A total of 61 applications initially were received. Both Swift and Osborne traveled to Ann Arbor for extensive, daylong final interviews with the board and the community on July 16 and 17.
Swift told AnnArbor.com Wednesday night following the board's special meeting she was "thrilled with the news of the offer."
Nelson, who led Wednesday's meeting because Mexicotte and Vice President Christine Stead were out of town, said Swfit is eager to have a district of her own and has been well trained and prepared to lead a district by her current Colorado Springs superintendent. Nelson believes she is ready to make Ann Arbor her school district and her home for the long haul, he said.
"I think her quick acceptance (of the offer) and her excitement speaks more toward her — quite understandable — confidence in her abilities," Nelson said, "when even with these circumstances, she still gives an enthusiastic 'yes.' That to me, is her saying, 'Yes, I can do this and I am going to have a great time doing it.'"
At the meeting Wednesday, Mexicotte, Nelson and trustees Andy Thomas and Irene Patalan voted in favor of the motion to enter into negotiations with Swift, while Stead and trustees Simone Lightfoot and Susan Baskett voted against it.
The trustees in favor of Swift highlighted as positives for Ann Arbor her motivation, warmth and enthusiasm; her ability to make tough choices in light of budget constraints at her current school district; and her experience in closing school buildings, leading a zero-based budgeting project, being a transparent and visible leader, and engaging the community in decision-making processes.
The three trustees who voted against the motion wanted to keep an interim superintendent in place for a year and conduct a fresh search in 2014. They expressed concerns about a community that saw Osborne as a clearly superior candidate and that would view Swift as a second choice, as well as concerns about Swift's lack of financial acumen.
Danielle Arndt covers K-12 education for AnnArbor.com. Follow her on Twitter @DanielleArndt or email her at daniellearndt@annarbor.com.