Posted on
Sun, May 23, 2010 : 5:30 a.m.
Nicki Sanii loves to make connections with people all over the community
By Erica Hobbs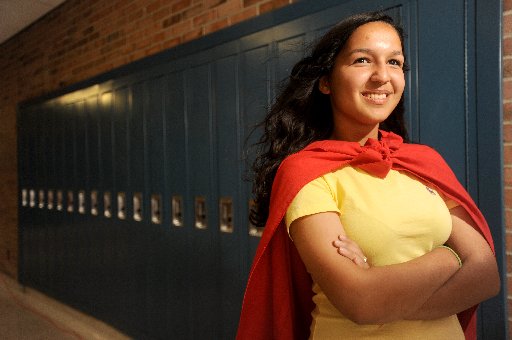 Angela J. Cesere | AnnArbor.com
After agreeing to stay with an elderly neighbor while the neighbor's family was on vacation, Nickta "Nicki" Sanii gave up an opportunity to take a trip of her own - to the White House Easter Egg Roll- in order to keep her promise.
"It was a commitment, I couldn't (back out)," she said. "I wasn't about to leave her alone at 84 years old."
Sanii said the week with her neighbor, largely spent chatting and watching old movies, was a lot of fun and not at all a bother.
For the 15-year-old Huron High School student, caring for the elderly is a priority. In addition to visiting her neighbor, Sanii is active in Meals on Wheels, in which she participates with the help of her parents.
"I feel these people have done so much for the community. Why not give up one Saturday a month to help these people out?" she said. "It makes me feel good."
Nickta "Nicki" Y Sanii

Age: 15

Parents: Nahid and Matthew Yahyai

School: Huron High School

School activities: Organizing for America, news editor for student newspaper, lacrosse team, National Honor Society

Community activities: Meals on Wheels, 2008 Obama for President campaign, elementary school tutor, assistant karate instructor

Nominated by: Claudia Krcmarik

Future plans: hopes to attend either Northwestern University or Bates College and eventually Johns Hopkins School of Medicine to become a physician

Favorite superhero: Superman

Sanii said she was never able to know her own grandparents and loves the connections she's made with people from all over the community. Among those people are a former Huron High School janitor and a former University of Michigan official, whom she would never have met otherwise.
Neighbor Jennifer Wyckoff said Sanii is a huge help for her family, taking care of not only her elderly mother, but also her two small children.
"She's really very mature for her age," she said. "She really does a lot for a lot of people."
Along with helping the elderly, Sanii said she loves working with kids. She also volunteers once a week at her former classroom at Thurston Elementary School as a tutor.
Karate instructor Thomas Wright said Sanii, who recently earned a black belt, is a role model for the younger students.
"I think that she's a good leader," he said. "When she walks through the door she's always got a smile on her face. I think she's got a positive outlook all the time."
When not assisting with the elderly or children, Sanii is active in politics. After canvassing for President Barack Obama's 2008 presidential campaign, Sanii became active in Organizing for America, a followup to Obama for America (OFA) that supports the president's agenda. In March, she started a branch of OFA at her high school, which she hopes will be up and running by the end of the school year.
"I consider myself moderate, but I like the idea of positive change," she said. "I like where he's going with us. I can't vote yet, but this keeps me well-informed."
For Sanii, positive change is what life is all about. She said she hopes to eventually become a doctor and is considering a career in the field of oncology.
"I feel like the doctor you have makes a big difference," she said. "If you give people hope, it's going to be better."