Posted on
Tue, Nov 29, 2011 : 5:59 a.m.
Electronic textbooks? U-M students may have lighter backpacks starting next fall
By Kellie Woodhouse
Students, ready to drop those textbooks?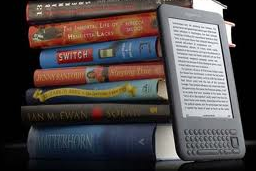 AP photo
The
University of Michigan
wants to move the majority of its introductory courses to electronic textbooks.
"The big, slick, pricey textbooks that get used in courses that draw hundreds and thousands of freshmen: There's a huge profit being made there," U-M Dean of Libraries Paul Courant told the Senate Advisory Committee on University Affairs on Monday. "Candidly, we want to go after those profits on behalf of our students."
U-M is in the midst of negotiations with publishers and will begin an e-book pilot program in the fall.
Currently, students can choose to buy a print textbook or the electronic version. Introductory textbooks average between $150 and $200 each, and electronic textbooks are typically between 20 and 30 percent cheaper, Courant said.
The university wants to negotiate with publishers to buy electronic textbooks in bulk and then provide them to students for a course fee of about $30 apiece. Students who prefer printed versions can pay an extra $20 to $35.
"Almost no student would be worse off because of that price," Courant said. He said while sometimes used textbooks can be found online for a lesser cost, many faculty members require the latest edition of a textbook, forcing students to buy new and expensive editions.
A student at a public college will spend on average $1,168 on textbooks per year, according to 2011-2012 figures from the CollegeBoard Advocacy and Policy Center.
"There's a public textbook crisis out there," Courant said. "There's a lot of money at stake."
The electronic textbook model, Courant said, will allow professors to make pieces of several different works available to students. Currently, doing so is cost prohibitive or, if a professor does not use the proper channels, can violate copyright law.
SACUA chair Kate Barald noted that e-readers have access to "a very long list, particularly in literature, of free downloads."
U-M has already tested assigning only electronic books to 170 students in five classes. That test was successful, Courant said.
"Students like electronic books just fine, but only if they're at least as convenient as print books," he said.
Figures from the National Association of College Auxiliary Services show that electronic textbooks are becoming more popular. In 2008, just 12 percent of college students had purchased an electronic textbook. By 2010, that number had grown by 42 percent. As of March 2011, about 13 percent of students owned an e-reader.
However in a March survey NACAS found that 75 percent of students prefer print textbooks to electronic ones.
U-M Provost Philip Hanlon said the university will not make a profit from the electronic textbook arrangement. It will, however, save money on financial aid by paying less for textbook costs in scholarships.
"What we want to do is save for our students," Hanlon said.
Courant told SACUA that he also wants to see U-M professors publish their own electronic textbooks and make them available to students for free.
He also said that, as of now, U-M has no plans to force professors to switch to electronic books, but rather encourage them.
"We're not interested in creating a structure that's going to impose something," he said.
Kellie Woodhouse covers higher education for AnnArbor.com. Reach her at kelliewoodhouse@annarbor.com or 734-623-4602 and follow her on twitter.