Posted on
Mon, Jun 20, 2011 : 7:25 p.m.
Bicyclist killed after collision with dump truck
By Cindy Heflin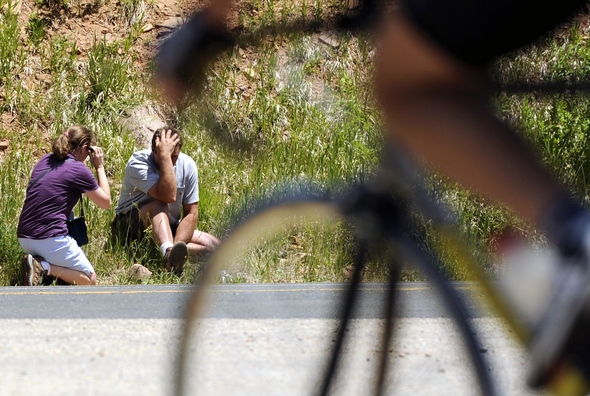 Jeremy Papasso | Boulder Daily Camera
A founding member of the
Ann Arbor Bicycle Touring Society
was killed Friday when a dump truck pulling a trailer loaded with construction equipment hit him as he was riding his bike near Boulder, where he lived.
Eugene Philip Howrey, 73, was thrown about 36 feet from the impact, said Cpl. Eric Wynn with the Colorado State Patrol. He was declared dead at the scene. He had been wearing a helmet at the time of the crash.
Howrey, known as Phil to friends and family, moved from the Ann Arbor area to Boulder several years ago.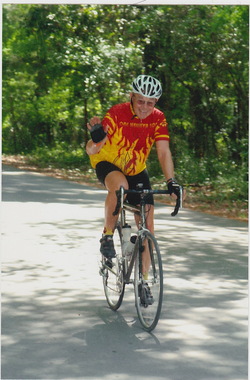 Photo courtesy of the Howrey family
The preliminary crash investigation indicates that the truck driver, Christopher G. Loven, 45, of Boulder County, failed to yield the right of way, Wynn said.
Loven was driving west on Lefthand Canyon Road, while Howrey was riding east, Wynn said. The truck hit Howrey's bike as Loven attempted to turn left onto southbound Olde Stage Road shortly after noon, he said. Howrey swerved to try to avoid the crash, he said. The investigation is continuing, and no charges have been filed, Wynn said.
Howrey's wife, Sharon, was riding with her husband when the crash occurred, Howrey's son, Mark, said today.
Loven was convicted two years ago for his role in a road rage incident with a cyclist in the same area where the fatal crash occurred, the Daily Camera in Boulder reported today. Loven was ticketed on suspicion of reckless endangerment in 2009 after a cyclist said Loven used his truck to push him into oncoming traffic, The Daily Camera reported. He pleaded guilty to the misdemeanor charge, the newspaper said.
Mark Howrey said today the fatal accident was all the more shocking because his dad was extremely safety conscious.
"I remember as a kid we always had to wear helmets even when no one else was," said Howrey, who now lives in the Boston area.
Frank Lamitola, a member of the Ann Arbor Bicycle Touring Society, who went on many rides with Howrey during the years, seconded that.
"He was the safest rider I've ever ridden with," he said today. "We rode tandem together quite a bit. He was constantly scanning the area and checking the intersections. He knew exactly how to handle a tandem."
Mark Howrey said today the family never worried about his father's safety while riding.
"It was very shocking and it still is shocking, but he died doing what he loved best, and we're all thankful that it was very quick and painless."
Howrey was one of about a dozen charter members who more than 30 years ago formed the Ann Arbor Bicycle Touring Society, a prominent biking club that organizes daily group rides for road and mountain bike enthusiasts as well as participating in in-state and out-of-state tours.
"The articles of incorporation were signed on our dining room table," Mark Howrey said.
Though Mark Howrey no longer rides himself, he has fond memories of growing up in a bicycle-riding family
"I remember the early times of the breakfast rides on Saturday morning, when we all met at the Gandy Dancer before riding out to Dexter. And it was just special family time." The club still conducts those Saturday Morning Breakfast Rides to Dexter and beyond.
Howrey also spread the love of cycling to his three stepchildren, Howrey said.
Fellow riders fondly remember Howrey's enthusiasm and endurance for his sport. Riding tandem, Howrey and Lamitola participated in several 24-hour challenge rides in Michigan, gradually improving their performance until they came in first.
AABTS member Dieter Hohnke recalls participating in a late-season ride called The Hills of Ann Arbor. It was cold and snowing as they finished the November ride, Hohnke said.
"When I had done the rounds and I was happy to go home, Phil said let's do it again." And he did, this time by himself.
"He was just a great guy," Lamitola said. "I'm really going to miss him because it was just a wonderful time we've had on bikes. … I'm at a loss for words.